Avro 626
Background
The Avro 626 was a development of the Avro 621 Tutor. The 621 was designed as a basic trainer to replace the Avro 504. Using a fabric covered metal construction, the 621 used a 240hp Siddeley Lynx engine. The 626 was developed as an advanced trainer, featuring , a third cockpit, an upgraded powerplant, and provision for a gunring.
The RNZAF operated four Avro 626 aircraft (NZ201-204) in an advanced trainer role between1935-1943 (a further four were diverted to the RAF). The 626 was acquired as the extra cockpit allowed more versatility in the training role than the smaller Prefect and Tutor. The aircraft was used for advanced pilot training, gunnery and bombing training, wireless and air observer training. The usage was reduced after 1940 as the Fairey Gordon became the standard trainer, and the 626 was mainly used for instrument flying. NZ201 was written off in 1937, and NZ202 was broken up in 1942. The other two aircraft were withdrawn in 1943, and NZ203 (c/n 811) became an instructional airframe (Inst90) with the Hastings ATC squadron.
An incident in NZ203's pre-war history occurred in 1936, at the official opening of the Mt Cook aerodrome in May. The aircraft performed an aerobatic routine in the hands of FO Truman during which it clipped a bus, losing the port undercarriage and damaging a tailplane in the process. The pilot elected to fly back to Wigram (an hour away), where emergency services were available. The passenger on the flight was Harry (later Sir Henry) Wigley, son of the founder of the Mt Cook line.
NZ203 was sold in 1947 to Jim Frogley and registered as ZK-APC. The aircraft was purchased with the intention of conversion to a topdressing role, but this did not occur. The aircraft had about 500 hours use before it needed an overhaul. The aircraft was then put into storage in 1958, and the registration cancelled in 1965.
The RNZAF acquired the aircraft again in 1981 and restored it to flying condition. The 626 started touring the country (where it looked great!) in 1985, flying from Ohakea to Auckland and back via Te Rapa before being grounded with engine (crankshaft) problems. The crankshaft was replaced in 1995. The 626 is now on display at the RNZAF Museum, where there are no plans to fly it. It is doubly historic as the oldest remaining RNZAF aircraft (and the only pre-war aircraft) and the only example of its type in existence.
Last Update:- 22 October, 1996

---
Technical Data
Accommodation : 3
Dimensions

Span : 10.36m (34'0ft)
Length : 8.08m (26'6ft)
Height : 2.97m (9'9ft)

Weight

empty : 912kg (2010lb)
max : 1,212kg (2,667lb)

Power Plant : 277hp Armstrong Siddeley Cheetah V
Performance :

max speed : 208km/h (130mph)
max climb : 1000ft/min (305m/min)
ceiling : 16,800ft (5,121m)
range : 322km (200miles)
---
Images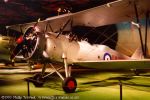 ---

&copy 1996-98 Phillip Treweek, all rights reserved