Beechcraft 18 'Twin Beech' (C-45)
Background
Development of the Beech 18 began in 1935, and the prototype first flew on January 15, 1937. The aircraft continued in production from 1937 to 1969. Wartime production of the C-45 utility transport (or JRB in USN service) amounted to 5204 aircraft. These aircraft were known as Expeditors in Commonwealth service. Variants for training navigators, bomb-aimers and gunners were known as AT-7, AT-11, and SNB in USN service, and 1582 were built. Post-war, production of the C18 and D18 models continued until the E18 'Super 18' was introduced in 1953. This was suceeded by G and H models, which after 1963 included tricycle undercarriage versions, and oher engineering and comfort improvements. Many of these aircraft were used in military and executive roles. Turboprop conversions were provided by '3rd party' companies.
A number of military C-45 variants passed through New Zealand during the WWII period as transports in the service of the USAAF. An AT-11 Kansan (c/n3691, ex42-37208) was operated by NZ Aerial Mapping Co. This aircraft, ZK-AHO is now on display with MoTaT. Trans Island Airways operated a Beech D18S from 1956 to 1960. Built in 1945, ZK-BQE 'Spirit of North Otago' (ex N80013, N3010V) was on its delivery flight from the USA when it suffered an undercarriage collapse at Eagle Farm, Queensland on November 9, 1956. ZK-BQE finally reached Harewood (Christchurch) in April 1957, and started flying Trans Island Airways South Island routes. Then in early 1958 the aircraft was grounded with a cracked main spar. After being repaired in 1960, the aircraft was sold an flown to Australia where it operated with Connellan Airways at Alice Springs as VH-CLI. Withdrawn from service in 1966, the aircraft was in the Warbirds Museum at Mildura from 1972, but returned to Alice Springs in 1984 to be displayed in the Central Australian Aviation Museum.
One Beech 18 (ZK-TEX) is currently operating in New Zealand. The aircraft (pictured below) is a postwar civilian D18S model (c/n A-989 ex N11827, N11821, N1182F), acquired by the New Zealand wing of the Confederate Airforce. The aircraft came out of the Wichita factory in November 1953, and was initially operated by Southern Natural Gas Co in Alabama. The change of registration to N11821 came shortly before it was sold to J.G.Marrs of Lake Placid, Florida and reregistered as N1182F. Five Florida owners in 13 months followed before it was registered to Paul Mar Co of Palm Beach, who retained the aircraft until October 1971 when it was passed to Trans Corp of Danbury, Connecticut. In October 1976 the aircraft moved back to Kansas to Dickson Flying Sevice in Plains. The aircraft passed to the Bank of Beaver City, Oklahama in August 1985. In September 1986 the Beech was registered to E.V.Long III of Westport Aircraft in Wichita who sold it to the NZ Wing of the CAF. The aircraft arrived on December 14, 1986 via a trans-Pacific flight, and is based at North Shore Aerodrome. The CAF flagship is painted to represent C-45 44-47506 used by the US Legation in Wellington in 1945. The aircraft joined the NZ register on December 8, 1989.
A visitor to our shores is illustrated below. VH-SAU was a visitor at the Warbirds over Wanaka air show. The Twin Beech was flown to New Zealand by Tony and Trish Roberts specially to attend with their three children. They made the 17 hour journey via Norfolk Island. The aircraft has had an interesting career - it started life as an AT-11 Kansan bomber trainer built in 1949 for the Chinese Nationalists in Taiwan, and originally featured a plexiglass nose and dorsal turret. These were removed when the aircraft was converted for passenger work, and for a time the aircraft was used by Nationalist President General Chiang Kai Shek. Sold in December 1957, the aircraft was operated by the Far East Transport Corporation until November 1964 when it joined China Airlines. The aircraft was then operated by the infamous ŒAir Americaš, and was modified to take a camera hatch and dropping chute. Patches in the fuselage skin suggest several unplanned modifications by projectiles. The aircraft was imported into Australia in 1973 where it has been used for passenger and cargo work. Now converted to D18S standard, the aircraft is strikingly presented in a natural metal finish with an Australian flag painted on each tail fin, and some rather interesting nose art ­ also with an Australian theme
Last Update:- 6 March, 2002

---
Technical Data
Accommodation : 8
Dimensions

Span : 14.5m (47'7ft)
Length : 10.4m (32'0ft)
Height : 2.8m (9'3ft)

Weight

empty : 2,546kg (5,610lb)
max : 4,082kg (9,000lb)

Power Plant : 2x 450hp P&W R-985-AN-14B Wasp Junior
Performance :

max speed : 368km/h (230mph)
max climb : 1,280ft/min (6.5m/sec)
ceiling : 22,000ft (6,710m)
range : 2,585km (1,300miles)
---
Images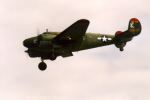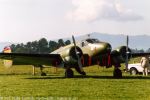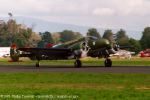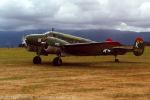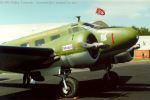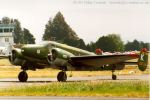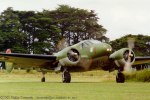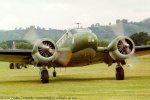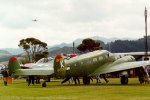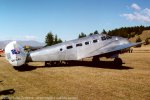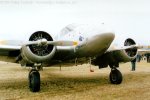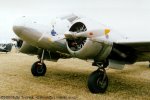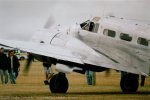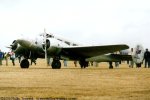 ---
Close Up
Remember to let me know if you have a request for an image of a particular part of the aircraft!
---

&copy 1996-2001 Phillip Treweek, all rights reserved