DHC-1 Chipmunk
Background
De Havilland of Canada was created in 1928, and became a manufaturer in its own right (DHC) in 1937. A number of English designs were produced by the fledgling company. Cirrus Moths, Tiger Moths, Fox Moths, and Dragons were produced before WWII, and Tiger Moths, Ansons, and Mosquitos during the war years. Although the designs were English, DHC made many modifications to meet local conditions.
The Chipmunk was the first indigenous design from de Havilland Canada, appearing in May 1946. Although only 218 were built in Canada, in an ironic twist, 1014 were built in Britain - as well as 60 in Portugal by OGMA. This trainer was operated by the RAF, RCAF, and at least a dozen other air forces. The first Chipmunk appeared in Britain in November 1946, and they have served for many years as a trainer, and with the RAF University Air Squadrons.
There is no formal military connection by the Chipmunk with New Zealand, but a number of ex-military trainers have been imported - most notably 4 ex-Indian aircraft in 1995 with spares (including engines and 18 wingsets), and several ex-RAF University Air Squadron aircraft in 1997. Some of the aircraft are presented in military paint schemes.
Aircraft currently on New Zealand's active register include
ZK-ARL DHC-1A-1 (c/n 61) was operated by the Wellington Aero Club before passing to a series of private owners. Damaged at Orewa in 1983 following an engine failure, the aircraft was rebuilt by the current owner, Jim Chapman of Christchurch.
ZK-ARM DHC-1A-1 (c/n 60) ex VT-CXM was the first aircraft registered of those imported from India in 1995. The aircraft has been restored by Athol Brown of Palmerston North.
ZK-BSV Mk.22 (c/n C1-0221) ex-WD283 served with the RAF from 1950 until 1956. Passing to the civil register as G-AOSW, it was imported to New Zealand by Keith McCready of New Plymouth. The aircraft is now with Eddie Cannon-James at Ardmore.
ZK-DUC Mk.22A (c/n C1-0064) ex WB623 served with the RAF from 1950 until 1956. After its military service the aircraft was exported to Australia as VH-RVW. Imported to New Zealand in 1974, after sveral changes of ownership the aircraft is now with Simon Spencer-Bower at Rangiora.
ZK-MUH Mk.21 (c/n C1-0834) ex G-AMUH was built for Air Service Training. Imported by Dougal Dallison in 1987 (who purchased it two years earlier), the aircraft is now with the Alpine Fighter Collection at Wanaka.
ZK-RFS T.10 (c/n ?) ex WB693. The aircraft is with B & S Stoke at Ardmore.
ZK-TAZ T.10 (c/n C1-0840) ex-WP974 served with the RAF as part of the University Air Squadrons (Aberdeen, Bristol, Cambridge, and London) from February 1953 until April 1996. The aircraft is now owned by Robert Gordon of Te Puke.
ZK-UAS Mk.22 (c/n C1-0633) ex-WK681, G-BDBL was built 1952 and also served as a University Air Squadron machine with the RAF. The aircraft is now operated by a syndicate at Ardmore. (illustrated below).
ZK-XUK T.10 (c/n ?) ex-WB647 is with John McAllister at Oxford.
Chipmunks under restoration include
ZK-CVR? (c/n 39) ex VT-CVR at Mandeville
ZK-CVP? (c/n 37) ex VT-CVP at Mandeville for John Mathewson.
ZK-DHC? (c/n 42) ex VT-CVU at Mandeville for Bill Sutherland.
ZK-CVM? (c/n 34) ex VT-CVM at Christchurch for Don Penniel.
The aircraft pictured below are TNR and UAS. ZK-TNR (ex-WB566/G-AORR/HB-TUB) was destroyed in an accident at the 1994 Warbirds over Wanaka in which pilot Ian Reynolds unfortunately lost his life. Two other Chipmunks (ZK-APN and ZK-BSS) have appeared on the New Zealand register. APN was lost at Evans Bay, Wellington on September 2, 1950. BSS was damaged at Ardmore in a fire started by a static spark during refueling, and its registration was cancelled on February 11, 1961.
Last Text Update:- 21 May, 2001
Last Picture Update:- 2 December, 2002

---
Technical Data
Accommodation : 2
Dimensions

Span : 10.46m (34'4ft)
Length : 7.75m (25'5ft)
Height : 2.13m (7'0ft)

Weight

empty : 647kg (1,425lb)
max : 953kg (2,100lb)

Power Plant : 145hp de Havilland Gypsy Major 8
Performance :

max speed : 222km/h (138mph)
max climb : 840ft/min (4.27m/sec)
ceiling : 15,800ft (4,820m)
range : 445km (280miles)
---
Images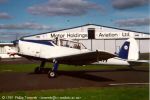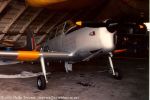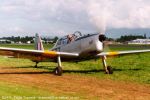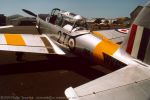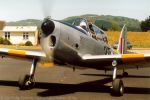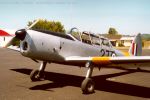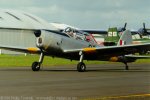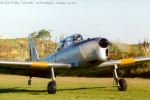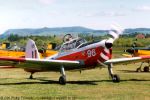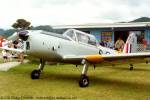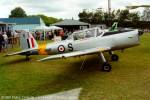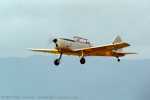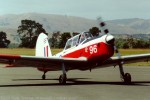 ---
Close Up
Remember to let me know if you have a request for an image of a particular part of the aircraft!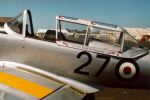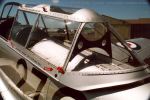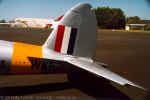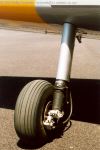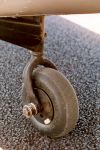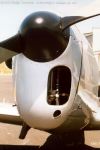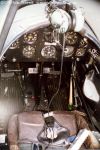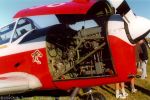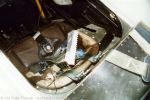 ---

&copy 1996-2001 Phillip Treweek, all rights reserved