Flying Legends Air Show
Duxford, July 12th, 1997
Phil's Duxford excursion continued. This is page four of six. To see the whole set (114 images) go here . Time for some action! Once the show proper started I was in heaven. I have collected together the 'action' images together, with the Bomber aircraft on this page, and the Fighters on the next.
B-25 Mitchell
Two Mitchells were on display - one being the Fighter Collection's very rare B-25D (KL161) N88972 which appears in the colours of a 98SQN aircraft in 1944, with the Fighter Collection Indian Head logo on the starboard side and 'Grumpy' on the port side. The other aircraft is a B-25J (HD346) N88972 operated by the Duke of Brabant Air Force based in the Netherlands.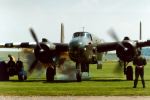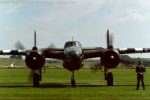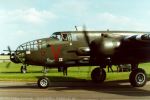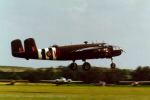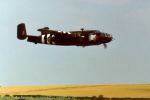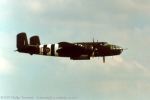 Avro Lancaster
One of the other aircraft I had specifically come to see was the Battle of Britain Memorial Flight Lancaster (PA474). In 1996 I had the opportunity to tour the interior of New Zealand's sole Lancaster (NX665) , so the opportunity to then see one in the air as well (and within 12 months) was just great.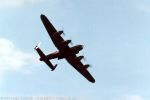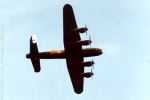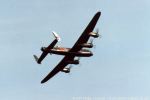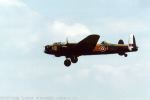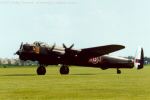 B-17 Flying Fortress
I had missed out (except from a distance) on seeing the B-17 at Hendon, because the Bomber Command Hall was closed. At Duxford I got to see two - and one of those was airborne. Pictured below is 'Sally B' (G-BEDF), which operates from Duxford under the auspices of B-17 Preservation Trust ltd. It is interesting that the aircraft still carries the nose-art for 'Memphis Belle' from the filming of the movie of the same name.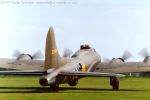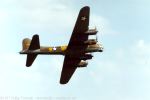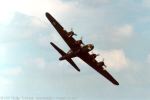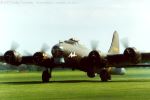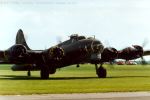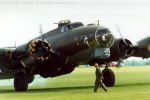 Bristol Blenheim
Pictured below on a flypast and taxying is Bristol Blenheim MK1 (L8841), operated by the Aircraft Restoration Co.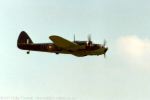 The Rest
Completing the action shots from the bombers on display are taxying images of the Fighter Collection's AD-4 Skyraider (seen in the colours of VF-152 from USS Hornet), and the Fleet Air Arm Historic Flight Fairey Swordfish MkI (W5856).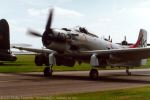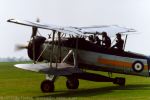 ---

&copy 1997 Phillip Treweek, all rights reserved