Lockheed L10 Electra
Background
The Electra is one of the classic airliner designs of the '30's, and the first aircraft which Clarence 'Kelly' Johnson worked on after joining Lockheed. Designed to meet a change in regulations requiring twin engines for commercial operations, the model 10 was a luxurious 10 seater ,with two crew. First flown in February in 1934, 149 were eventually built in four models (107 x L.10a with P&W R-985, 19 x L.10b with Wright R-975-E3, 8x x L.10c with P&W Wasp SC-1, and 15 x L.10e with Wasp 1340). 115 went to airlines, with 9 going to the US and Argentinian government, and the remainder to private operators.
The aircraft reached New Zealand in 1937 when the first two examples were imported by Union airways. They brought with them a marked change in aircraft technology in comparison to the De Havilland airliners (DH.84 Dragons, DH.86 Express, and DH.89 Rapides) in common use at the time. In the immediate pre-war and WWII period the fast 10 seat aircraft flew the main trunk routes for Union Airways, and wider services as other aircraft were impressed by the RNZAF. In the post-war period the Union Airways aircraft were absorbed by the newly created National Airways Corporation, before being retired in 1950 to make way for larger capacity and more widely available Lodestars and DC-3s.
Electra services were not without mishap. ZK-AFC (c/n 1092) 'Kotare' crashed at Mangere on May 10, 1938 killing the two crew aboard. ZK-AFE (c/n 1103) 'Kereru' crashed on Mt Richmond while enroute to Nelson on May 7, 1942 with 5 people on board. ZK-AFD (c/n 1095) 'Kuaka' hit Flagstaff hill near Taieri (sliding to a halt amongst the gorse) in February, 1943 but was subsequently rebuilt. ZK-AGJ (c/n 1127) 'Kahu' landed in Tauranga Harbour while on approach to the airport on April 19, 1947 - all aboard were able to wade ashore. The final Electra loss occurred when ZK-AGK (c/n 1128) 'Kaka' crashed on Mt.Ruapehu on October 23,1948 killing all 13 on board during a flight from Palmerston North to Hamilton. At the time this was New Zealands worst air disaster.
Eight aircraft eventually operated in New Zealand - seven for Union Airways/NAC and one for Trans Island Airways. ZK-AFD made the last commercial flight for NAC on May 20, 1950. The NAC Electras were replaced by larger capacity ex-military Lodestars and DC-3s. The fate of ZK-AFC, ZK-AFE, ZK-AGJ, and ZK-AGK are given above. Of the remaining three, ZK- ALH (c/n 1060 ex VH-UXH) 'Koreke' and ZK-ALI (c/n 1108 ex VH-AAU) 'Koweka' which had been purchased from Guinea Airways in 1946 - ALH was withdrawn from service in July 1949, while ALI was stored from 1947 as a backup for AFD which in turn was withdrawn from service in 1950. All three aircraft were stored in the open at Palmerston North before being sold to Rural Aviation for parts in 1951. A plan to sell ZK-AFD and ZK-ALI overseas was unsuccessful and the aircraft last flew in 1951. ZK-ALH was broken up for scrap in in 1961, and ZK-ALI was broken up in 1963. ZK-AFD was also broken up 1961, but the fuselage survived, and this eventually found its way to MoTaT, where it was opened up as a 'cutaway' display. Currently this is in storage awaiting display space.
The other aircraft, as used by Trans Island Airways was ZK-BUT, an L10e (c/n1138). This aircraft was built as an L10a in 1939 as NC21735 for Standard Oil. In 1947 it became N10Y with Creole Petroleum, and was modified to L10e standard. It was imported to New Zealand in 1958, and served with Trans Island Airways as 'Spirit of Tasman Bay'. This service was short lived as the aircraft was ground looped at Harewood (Christchurch) on February 18, 1959 and did not fly again. Used for firetraining between 1965 and 1967, the aircraft was passed to MoTat in 1968. Today this aircraft (illustrated below) is on display, fitted with former Harvard R-1340 engines and painted as L10a ZK-AFD to represent the Union Airways/NAC fleet.
In 1998 a former Lan Chile L.10a (c/n 1145, ex CC226 'Diego de Almagro', CC-LGN-507, CC-CLG-0005, CC-CLEA-231, N10310) was imported from Alaska by Mackley Aviation for restoration. Built in 1941 for Lan Chile, this aircraft had been sold in 1959 to American interests and flown to Oregon. Moved to Alaska, the aircraft was impounded for unpaid parking charges and defaulted to the State. After residing in various museums, the aircraft was sold to Rob Mackley in 1997. Dismantled and shipped to New Zealand, the Electra is currently in Auckland.
Last Update:- 21 October, 1998

---
Technical Data
Data is for L.10a
Accommodation : 12 (2 crew & 10 passengers)
Dimensions

Span : 16.76m (55'0ft)
Length : 11.76m (38'7ft)
Height : 3.07m (10'1ft)

Weight

empty : 2,934kg (6,454lb)
max : 4,773kg (10,500lb)

Power Plant : 2x 450hp P&W R985-SB
Performance :

max speed : 353km/h (221mph)
max climb : 1350ft/min (411m/min)
ceiling : 20,000ft (6096m)
range : 1520km (950miles)
---
Images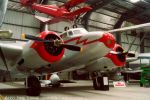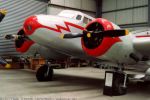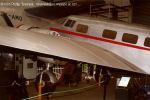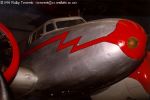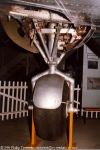 ---

&copy 1997-98 Phillip Treweek, all rights reserved