Hughes (Schweizer) 269
Background
Development of the model 269 two seat light helicopter dates from 1955, and the prototype was first flown in October 1956. Five pre-production aircraft (designated YHO-2HU) were then evaluated by the US Army in the Light Observation Helicopter trials. The type was unsuccessful in this role, but the Model 269A-1 was accepted for service in 1964 as a trainer (designated TH-55A Osage). A total of 792 were delivered by March 1969. Kawasaki built a number for the Japanese Delf Defence Force as the TH-55J. A number of other countries also used the type in a military role, including Algeria, Argentina, Columbia, Haiti, India, Sierra Leone, and Spain.
The aircraft was modified for the civil market as the model 269A, with deliveries commencing in October 1961. Further developed in 1957 led to the three seat model 269B. This version is better known in commercial use as the 'Hughes 300', having been marketed under this label. The model 269A was relabelled as the Model 200 in 1965. Subsequent development includes a quieter tail rotor introduced in 1967, and retrofitted on a number of earlier models. Production was taken over by Schweizer in July 1983, after Hughes had completed between 2750 and 2800 airframes. The Model 300C replaced the 180hp Lycoming HIO-360-A1A engine with a 190hp HIO-360-D1 and a number of engineering and comfort refinements. This was first flown in June 1984. The model 300C has also been built under license (NH-300C) by Breda Nardi in Italy. The model 300CQ incorporates further noise reduction modifications.
New Zealand's first example of the type was ZK-HBA, imported for Jack Ashworth. Used for agricultural contract work, it was delivered to Rotorua on September 18, 1965 and was initially used for spraying. It was later used for photographic and tourist work. These tasks remain common, and the type is well known in the training role, and for more exotic tasks such as deer recovery. Numbers in use remain strong, with 68 on the active register (as at July 1, 2001). This includes 3 model 269A, 5 model 269B and 42 model 269C helicopters, with a further 18 Schweizer built model 269C helicopters.


Last Update:- 29 July, 2001

---
Technical Data
Data is for model 269B
Accommodation : 3
Dimensions

Rotor Span : 7.7m (25'4ft)
Length : 6.7m (21'11ft)
Height : 2.5m (8'3ft)

Weight

empty : 432kg (950lb)
max : 759kg (1,670lb)

Power Plant : 180hp Lycoming HIO-360-B1A
Performance :

max speed : 139km/h (87mph)
max climb : 1,140ft/min (347m/min)
ceiling : 14,000ft (4,267m)
range : 326km (204miles)
---
Images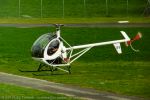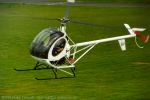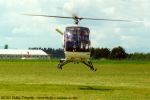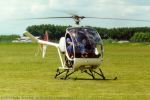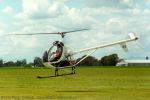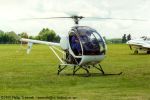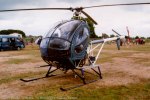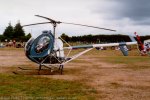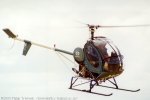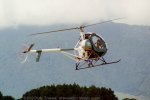 ---

&copy 2000-2001 Phillip Treweek, all rights reserved