Hardwick Airfield
Norfolk :
October 9, 2001
This page describes my visit with Maurice Hammond at Hardwick to look over his Mustang, which in a former life had been operated by the RNZAF. An associated page describes what is left of the former 8th Air Force Base at Hardwick.
Getting There:
I had my first contact with Maurice in January 2000 when he was looking for details on the history of NZ2427 which he was restoring. Since then we'd had ocassional correspondence. The aircraft was returned to airworthiness in July 2001, and is now based at Hardwick in Norfolk. I organised this special visit before leaving home but had to finalise the arrangements once we reached Norwich. While out and about I called Maurice from a public phone in a tiny village called Barton Turf. We arranged a rendezvous for 7.30pm. He would lead us to the airfield at Hardwick as he said we'd never find the hangar in the dark. As it stands, he was right. Our meeting point was the carpark of a 'Little Chef' on the A140. It all seemed a bit clandestine - sitting in a carpark in a foreign country just on dusk waiting to meet a stranger to go and look at military hardware. Maybe I've watched one to many Bond movies. Anyway, Maurice turned up right on time accompanied by his daughter. We made our introductions and it was all very friendly. Then we headed off into the wilds of Norfolk, following a variety of country lanes. That feeling of being in a bad spy movie came back - especially when a third vehicle appeared and began to follow us - even when we turned on to a farm. In the dark, when you're not quite sure where you are, the mind does strange things! It actually turned out to be Maurice's brother-in-law on his way to a museum meeting just down the road. We passed a number of former base buildings (more on these later) as we drove along concrete roads. Eventually we pulled up outside a hangar.
NZ2427
Maurice opened up and turned on the lights, and there she was - the former NZ2427. (Further details of the aircraft history can be found here). The Mustang is just beautiful - to me she looked brand new. Maurice is clearly very proud of his work - and quite rightly so! Maurice began the rebuild project at Eye in Suffolk from Easter 1997. The aircraft returned to the air on July 13, 2001 in the hands of Rob Davies. I loaded up with 800ASA film and got some general shots while I chatted with Maurice. The aircraft has been restored in the colours of 41-4419 'Janie' as flown by Major William 'Willy' Price of the 351st fighter squadron of the 353rd fighter group which was based at Raydon in Essex, England. Major Price survived the war and currently lives in Pittsburgh, Pa. In 1992 he published a book on his experiences called 'Close Calls - Two Tours with the 353rd Fighter Group' (ISBN:096230803X).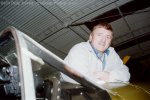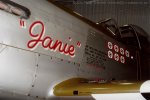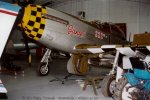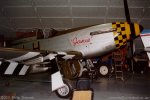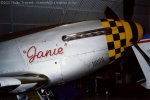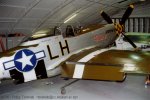 NZ2427 as 41-4419 as seen in the Hardwick hangar. That's owner Maurice Hammond at top left.
A little later, after he had re-installed the seat, I got some cockpit shots. More pictures from my walkaround can be found here.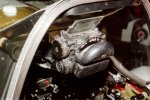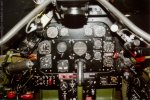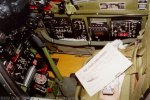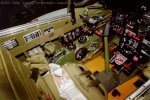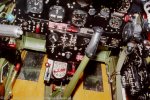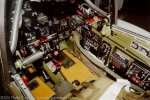 Some general views of the cockpit - note the issue of 'Stars & Stripes' on the seat. It's the real thing, as supplied by Maurice.
Maurice showed me an album of restoration photos and we talked about the history of the aircraft. The aircraft had been almost completely dis-assembled when it was put into storage in the 1980's, so he had a real jigsaw to put together. Now fitted with a zero-timed former Phillipines Air Force Merlin, Maurice says the aircraft is still 70% original. As well as removing the fuselage tank to fit a second seat, there has been some reskinning, along with the replacement of plexiglass, control surfaces and missing and perishable components. The gunbays were restored with replica guns of his own manufacture. He has kept one set of skins from the fuselage which feature the RNZAF roundel and the black and white checkerboard of 3 (Canterbury) Squadron. I had been unaware that the aircraft came from a small batch (the last 200 from the Dallas factory) fitted with a rear warning radar. The warning horn can be seen on the cockpit coaming to the left of the gunsight.
Maurice also twisted my arm and got me into the cockpit. Funnily enough, I'm usually so busy taking pictures that getting in doesn't occur to me. So it was a surprise to discover that the Mustang cockpit which I'd always thought looked fairly roomy, is actually quite snug!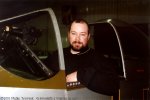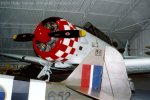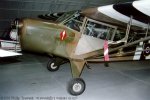 That's me on - the happy looking one at left. At centre is Maurice's Harvard which features artwork entitled 'Fools Rush In". The Auster V is at right.
The hangar turned out to be a busy place. As various people came and went, I also talked to David Woodrow on whose farm the airfield lies (more on that below). While Maurice was occupied I had a look at some of the other aircraft that share the hangar, like Maurice's Harvard and Auster V. The Auster caught me out - it looked really familiar, but I'd never seen one with a Lycoming up front! So what I thought would be a quick visit, turned out to be a busy evening - which did get me in a little trouble with my wife. We eventually departed a little after 10pm. My greatful thanks to Maurice and his friends for their gracious hospitality, and a wonderful evening!
A lovely collection of aerial photographs of G-MSTG by Bernie Totten can be found here

---

&copy 2002 Phillip Treweek, all rights reserved