DH 114 Heron
Background
The Heron was a follow on to the successful Dove. Utilising many of the Dove's components, the Heron had a longer fusealge, and an increase to four engines (in a similar fashion to the development of the DH-86 from the DH-84). The aircraft incorporated the reliable Gypsy Queen engines, a wing which allowed good short field performance, and a fixed undercarriage to avoid a complicated hydraulic system. The prototype (G-ALZL) was first flown on May 10, 1950, and production of the Heron 1B followed with ZK-AYV coming off the production line for NAC on March 10, 1952. Modifications to the tail were the only obvious change to the production model, although NAC's operating experiences resulted in further changes. Internal layout allowed for 14 to 17 passengers, depending on whether a toilet was installed.
The first eight aircraft were produced at Hatfield, with the remaining 149 built at Chester. Fifty-One production Heron 1's were built. The seventh production aircraft became the prototype Heron 2, which provided retractable undercarriage. The resulting reduction in drag meant an increase in speed and reduced fuel consumption. This flew on December 14, 1952. The Heron 2B had the same weight limits as the 1B. Developments included fully feathering propellers (2C), higher all up weight (2D), and a custom built VIP aircraft (2E). The 2A was also a single aircraft sold in the USA. Production ceased in 1963. After market modification include the US rebuilt Riley Turbo Skyliner, which re-engined the Heron with 290hp Avco Lycoming IO-540 engines, some of which were turbocharged. Saunders Aircraft Corporation in Canada also modified 12 aircraft to produce the ST-27. This incorporated a 2.6m (8'6ft) fuselage stretch allowing a capacity increase to 23 passengers, a modified wing structure, and re-engining with 750shp P&W Canada PT-6A-34 turboprops.
Heron's have primarily seen commercial use, either with airlines or as executive/VIP aircraft. Military use had been primarily as VIP transport. For the RAF, a single Heron 2 (XH375) delivered in 1955, along with two Heron 3 (XM295, XM296) delivered in 1958 and a single Heron 4 (XR391 ) delivered in 1961 were VIP aircraft for the Queen's flight. Some of these later went to the Royal Navy, XM296 not being retired until the end of 1989. Five civil Heron 2's also were acquired by the Royal Navy as transports in 1961 and designated Sea Heron C.Mk.20.
New Zealand's Heron connection started with the first production aircraft, ZK-AYV. Three commercial operators have utilised Herons in New Zealand. The first was the National Airways Corporation. The State owned airline was formed in 1947 from existing airlines, and ex-Air Force aircraft, including DC-3's, Electras, Lodestars, Dominies, and Fox Moths. By 1953 NAC had standardised on DC-3's, apart from limited operations with the De Havilland aircraft from airfields which could not take the DC-3. One of the limited airfields was Rongotai in Wellington, which had been off-limits at the Prime Minister's instruction since a Lodestar near accident in 1947. In 1952 the Airline acquired the first production Heron (ZK-AYV), and subsequently three more aircraft (ZK-BBM, BBN, and BBO/BEQ). The aircraft primarily operated across Cook strait (Rongotai- Blenheim-Nelson) and later to Hamilton and Rotorua, until 1957 when the upgrade of Rongotai was complete. AYV was the last aircraft of any type to fly out of the old Rongotai airfield. As the Heron was acquired unproven in the airline role at the time, it proved costly as modifications were required. Three of the aircraft (ZK-BBM, BBN, and BBO/BEQ) were sold to Fiji Airways. The other was sold in the UK, but crashed during the delivery flight.
The second New Zealand Heron operator was Air North. The company led by Ian Palmer grew out of Rotorua Aero Cub's Geyserland Airways. Geyserland conducted a variety of aerial operations, and the passenger services were split off in April 1972. As these services expanded Air North bought the former NAC Heron, ZK-BBM back from Fiji in November, 1975. As the route demands increased, a second Heron, ZK-EJM arrived from Britain in September 1976. The company shareholding was restructured in early 1977 with Air South Pacific as the major shareholder, but continued to operate as Air North with Ian Palmer as Chief pilot. He also retained ZK-EJM through Rotorua Airlines (1977) Ltd. A third Heron, ZK-EKO, was imported from Britain after EJM was damaged in a taxying accident. Like many third-level operators in the then highly regulated environment, the airline was economically troubled and in August 1977 joined with another operator, Akarana Air. The two companies ceased trading in 1977. Another restructuring in 1978 saw the major shareholding held by Car Haulaways (who operated several Carvairs) and the aircraft operated as 'Nationwide Air (Akarana) Ltd'. By this time ZK-BBM was laid up at Ardmore in need of a complete set of engine overhauls, and in November 1978 Rotorua Airlines (1977) Ltd repossessed ZK-EKO. Nationwide Air (Akarana) Ltd ceased active operations in December 1979. An unsuccessful attempt was made to transfer the company's air service licenses to Nationwide Air (International) Ltd, and March 1980 Nationwide Air (Akarana) Ltd was ordered to be wound up, with Nationwide Air (International) Ltd following suit in May. EKO had returned to Rotorua in early 1979, where it was parked up. Rotorua Airlines (1977) Ltd went into liquidation in September 1981, and the aircraft was put up for tender. Unfortunately before it could be sold, the aircraft was burnt, apparently by vandals.
The third New Zealand Heron operator was Wellington based Vincent Aviation. The company acquired Riley Heron ZK-TAJ with an eye to charter work with a 'classic' flavour and use on the Chathams run. However, the aircraft which had been purchased with appropriate maintenance records and a newly issued CoA was found to be structurely unsound and was subsequently broken up (see below). Legal action followed. The aircraft had completed approximately 20 hours in Vincent's service, on ferry and training flights. In 1994, the Heron was replaced by DC-3 ZK-AMY.
The only New Zealand Heron survivor is ZK-BBM, formerly operated by NAC and Air North. A summary of New Zealand registered Herons follows:
ZK-AYV (c/n 14001) Heron 1B First production aircraft - built for NAC and arrived in New Zealand in April 1952. Named 'Matuku' in NAC service. The aircraft was damaged at Rotorua on Septermber 1, 1955 when the nose assembly collapsed after encountering and sinking in soft earth while attempting to take off. None of the 14 onboard were injured. Withdrawn from use on July 31, 1957. Sold to Gulf Aviation by NAC and registered as G-APJS. The aircraft crashed in February 1958 during the delivery flight in a snow storm killing all three onboard. The wreckage was not located until May 10th on Mt Cifarelli in Southern Italy .
ZK-BBM (c/n 14011, ex ZK-BBM, VQ-FAY, DQ-FAY) Heron 1B. Built for NAC and registered to on December 19, 1952. Arrived in New Zealand in April 1953. Named 'Matapouri' in NAC service. Withdrawn from use in July 1957, the aircraft sat at Milson Field until August 1960. Sold to Fiji Airways (changed to Air Pacific in April 1971) in October 1960, the aircraft was withdrawn from the New Zealand register on November 29. Initially registered VQ-FAY, this was changed to VQ-FAY following Fiji's Independance in October 1971. The aircraft returned to New Zealand in November 1975, and was originally allocated ZK-EEX, but was restored as ZK-BBM. Operated by Air North from Rotorua. The aircraft was last flown in 1978. The registration passed to the Heron Preservation Society on March 20, 1989. The aircraft (illustrated below) is in storage at Ardmore. Recent news indicates a possible move to North Shore for restoration to commence.
ZK-BBN (c/n 14012, ex ) Arrived in New Zealand in May 1953. Named 'Matuhi' in NAC service. Withdrawn from use in July 1957. Sold to Fiji Airways (now Air Pacific). Withdrawn and scrapped in 1966.
ZK-BBO (c/n 14033, ex ) Arrived in New Zealand in November 1953. Named 'Mako' in NAC service. The registration was altered to ZK-BEQ on December 8, 1953. On January 6, 1954 this aircraft carried out the first civil flight in New Zealand for Queen Elizabeth II from Rotorua to Gisborne. Although intended for airline use, the aircraft was the first 'executive' Heron produced, and therefore thought suitable for Royal use. Withdrawn from use in July 1957. Sold to Fiji Airways (now Air Pacific). Withdrawn and scrapped in 1965.
ZK-BEQ (c/n 14033, ex ) see ZK-BBO
ZK-EJM (c/n 14005, ex LN-SUD, G-AOZN, 9L-LAL) Heron 1B. Built in June 1952 for Braathens-SAFE in Norway, and delivered on September 9 of that year. The aircraft returned to the UK in 1957, and was subsequently operated by Manx Airlines, Silver City Airways, Aircraft Leasing Co, Overseas Air Transport (Jersey) ltd, North South Airlines, Mercury Airlines, Lord Peter Calthorpe, Emerald Airways, and Executive Air Engineering. In March 1968 the aircraft was sold to Sierra Leone Airways and later passed to the National Diamond Mining Co. In April 1975 the aircraft again returned to the UK, being operated by Fairflight Charters and Gulfair. The aircraft arrived in New Zealand in September 1976, having been registered as ZK-EJM on September 1st for Air North. The aircraft was seriously damaged (nose gear, propellers and both wings) in a taxying accident at Ardmore on May 9, 1977 when the aircraft swerved off the runway after the left brake failed and came to rest in a ditch. Although intentions to repair the aircraft were reported at the time, the aircraft lay derelict for some time and was later broken up. The registration was finally withdrawn on January 29, 1989.
ZK-EKO (c/n 14044, ex G-ANXA ) Heron 1B. Built in February 1955, after being test flown as G-5-11, the aircraft was registered to BEA as G-ANXA. Along with G-ANXB the aircraft operated as the 'Hebrides class' , replacing DH89's on the Scottish Islands services. It was sold to Peters Aviation of Norwich on April 9, 1974, who subsequently sold the aircraft to Air North. The aircraft arrived in New Zealand on June 22, 1977 as a replacement for the damaged ZK-EJM, and was registered as ZK-EKO on July 29. When Air North restructured in 1977, ownership passed to Rotorua Airlines (1977) ltd. The aircraft was withdrawn from service in 1979, and was placed in open storage at Rotorua airport. It was subsequently destroyed by fire on October 17, 1981 in what were believed to be suspicious circumstances, although no culprits were apprehended. The registration was finally withdrawn on January 29, 1989.
ZK-TAJ (c/n 14131, ex YV-P-AEB, YV-284P) The Heron 2D was delivered to Shell Oil Venezuela on Jan 6, 1958 who used it as a corporate aircraft. The aircraft underwent a Riley conversion in 1967, fitted with IO-540 engines. A registration change to YV-P-AEC was not taken up, when a sale to the Venezuelan Ministry of Mines fell through. The original YV-P-AEB registration was altered to YV-284P around 1974. After being in storage at Opa Locka in Florida for some time, it was sold to Air Rarotonga (1982) Ltd. The aircraft was registered as ZK-TAJ on July 7, 1986 and flown to the Cook Islands via Honolulu on July 9. Relaced by a Bandeirante, the 15 seat aircraft was reported sold to Vincent Aviation in June 1991, but was delayed in departing while repair work was carried out on the spar. The aircraft was finally ferried to Auckland on February 2, 1992, and delivered to Wellington the following day. The aircraft's final flight was from Wellington to Palmerston North on February 24. At that time it had completed a little over 10,000 hours. Checks during maintenance at Fieldair found major corrosion in the wings and the aircraft was grounded. The engines were transferred to VH-KAM which was leased in the interim while the aircraft was repaired. However, after being shipped to Tasmania for repairs, a large number of corrosion and other problems were found, and the aircraft was subseqently broken up with some components retained as spares. Reported withdrawn from use in April 1992, the registration transfer was not through until May 29 of that year. The registration was cancelled on August 4, 1993.
In addition, an Australian based Heron has operated in New Zealand. This is VH-KAM (c/n 14123, ex EC-AOF, G-ASVC, VQ-FAF, DQ-FAF) a Heron 2D Riley conversion. This aircraft was built in 1957 and delivered to Aviaco on October 2. In July 1964 the aircraft was sold to Morton Air Services where it acquired a British registration. On sold on September 1, 1964 to Fiji airways it became VQ-FAF, and subsequently DQ-FAF with Air Pacific. On May 14 1975 the aircraft was purchased by Connair of Alice Springs and converted to a Riley Heron 2D/A1. Registered as VH-KAM on December 16, 1975 it was sold to Kendall Airlines the following month. The aircraft was operated by a number of airlines up to September 1985 when it was purchased by Airlines of Tasmania. Leased for 14 months by Vincent Aviation of Wellington, it arrived in New Zealand on June 26, 1992. As noted above, the aircraft was fresh out of overhaul and intended as a temporary replacement for ZK-TAJ while it was repaired. VH-KAM departed back to Australia on August 21, 1993. The aircraft returned to service with Airlines of Tasmania until September 9, 1993 when it was retired. Withdrawm from use in December 1994, the aircraft is most recently reported stored at Launceston.
I have to admit a soft spot for the Heron. In my early teens I regularly saw Air North Heron's operating between Rotorua and Whakatane. I was particularly impressed that this graceful aircraft featured FOUR engines. I look forward to seeing the only New Zealand Heron survivor ZK-BBM, formerly operated by NAC and Air North, return to the air sometime in the future.
Last Update:- 4 March, 2000

---
Technical Data
Data is for the Heron 2D
Accommodation : 2+14
Dimensions

Span : 21.79m (71'6ft)
Length : 14.78m (48'6ft)
Height : 4.75m (15'7ft)

Weight

empty : 3697kg (8,150lb)
max : 6,123kg (13,500lb)

Power Plant : 4x 345hp DH Gypsy Queen 70-3
Performance :

max speed : km/h (mph)
max climb : ft/min (m/sec)
ceiling : 18,500ft (5,640m)
range : 1,473km (915miles)
---
Images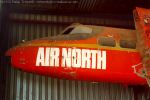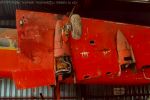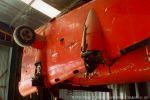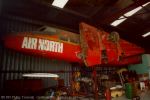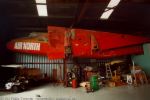 ---
Close Up
Remember to let me know if you have a request for an image of a particular part of the aircraft!
Not Yet . . .
---

&copy 2000 Phillip Treweek, all rights reserved