Hawker Hunter
Background
The Hunter is a classic postwar jet fighter. Developed against Air Ministry spec F.3/48, construction of the prototype P.1067 (WB188) began in 1950, with the first flight being made on July 20, 1951. Rolls-Royce Avon and Armstrong-Siddeley Sapphire powered Hunter versions were then developed in parallel. The RR Avon F.Mk.1 was flown first in May 1953, and entered RAF service in July 1954 - with the Sapphire powered F.Mk.2 following in November of that year.
The aircraft was a successful performer, and attracted attention from a number of air forces. Production amounted to nearly 2000 aircraft, with 1057 single seat and 55 two seat models constructed for the RAF/FAA, and another 350 single seat and 45 two seaters built for export. Fokker built 189 Hunters under license in the Netherlands, and Fairey/Sabena another 256 in Belgium. In addition, a number of aircraft were reacquired by Hawker Siddeley and 'remanufactured' for export.
Part of the Hunter's success was the continued development through the 1950's and 60's. The Avon powered F.4 and Sapphire F.5 versions carried more fuel and weight. The F.6 was again more powerful, and featured AVPIN rather than cartridge starting. The T.7 was a two seater based on the F.4. First flown in 1955, it entered service in 1958. The T.8 was based on the T.7, featuring an arrestor hook (airfield only) and other modifications for FAA use. The FGA.9 was developed for ground attack, with a stronger wing and provision for more external fuel capability, and entered service in January 1960. This was followed by the FR.10, a reconnaissance version, and the GA.11/PR.11 were again for the FAA. In the 1960's Hawker Siddeley acquired a number of airframes for remanufacture - developing a number of models with a range of features from earlier designations. Operators outside the UK included Abu Dhabi, Belgium, Chile, Denmark, India, Iraq, Jordan, Kenya, Kuwait, Lebanon, the Netherlands, Peru, Qatar, Saudi Arabia, Singapore, Sweden, Switzerland, and Zimbabwe. It is a testament to the aircraft that some military operators continued to use the aircraft into the 1990's. Although most have now been retired, a few are still in work - such as with the Empire Test Pilot School, and a small number are now operated privately.
New Zealand has had no formal Hunter connections, although a number of Kiwi pilots have flown them in RAF service. Two ex-Republic of Singapore Air Force Hunters currently reside in New Zealand. These aircraft were purchased by Geoff Moesker and Alan Arthur of Australia when 21 Hunters were withdrawn and sold by tender in 1993-94. The aircraft were onsold to the current owner, Jet Imports Ltd, and arrived in New Zealand at the end of 1995.The aircraft are a T.75 and an FR74S. Singapore originally contracted for 16 Hunters in 1968, with the aircraft delivered in 1970-71. More were acquired later, but the NZ imported aircraft come from the first batch. The aircraft operated from Tengah with no's 140 (Osprey) and 141 (Merlin) squadrons.
The FR.74 (c/n 517) first flew as an F.6 RAF serial XJ689 in February 1957, one of the fourth production batch (being the first batch manufactured with the leading edge wing extension). The aircraft was delivered to 5(MU) as after which it served with 14(F) squadron at Guttersloh in Germany. The aircraft was subsequently returned to Hawker Siddeley in March 1964 for conversion to FGA.9 ground attack standard, which involved a full tropical kit, gun blast deflectors, stronger inboard pylons, jettisonable guns on the outboard pylons, arrestor parachute and fitting of an Avon 207 engine. 52 F.6 aircraft underwent the conversion, and XJ689 was one of 6 aircraft in the second batch. The aircraft was then assigned to 66(F) Squadron in December 1964. Repurchased by Hawker-Siddeley in 1970 (and registered G-9-327), the aircraft was converted to FR.74A standard (one of four for Singapore under contract HSAL/68/SG/078) before delivery in August 1971. During its service the aircraft was upgraded to FR.74B standard. The aircraft made its last in-service flight in 1992.
This aircraft was put under restoration to flying status at Ardmore with Aero Technology Ltd, and on April 13, 2000, made its first civil flight as ZK-JIL. In the hands of the late Sir Kenneth Hayr the aircraft made a high speed taxi, then returned to the holding point before making its first test flight, which terminated at Auckland International Airport. The takeoff was reported as 'loud' and attracted attention all over Ardmore. Sir Kenneth subsequently carried out the test programme. The aircraft is now based at Ardmore. Radio problems meant the aircraft was not displayed at Wanaka in 2000, but it did make its airshow debut at the Warbirds over Taupo show in March 2001. With insufficient runway length at Taupo, the aircraft was operated from Hamilton. Display pilot Sir Kenneth was also participating in the show with his Yak-52 which necessitated his flying north at the end of the aerobatics display to launch the jet. (illustrated below). Subsequently retrieved by David Phillips on April 5, the aircraft made a wheels up landing at Ardmore. Fortunately damage was 'minor', being sustained by the two underwing fuel tanks, along with the port flap and underbelly Doppler radar housing. Cautious maintenance crew required the stripping down of a number of systems, but the aircraft was only out of the air for a few months. The aircraft has subsequently appeared at a number of NZ airshows. (illustrated below).
The T.75 is RSAF 516 (c/n 500). The aircraft was originally an F.4 serialled XE664 from the second production batch delivered to the RAF 5(MU) in May 1955 before serving with 43(F) squadron (coded 'F') at RAF Leuchars. In 1959 it was converted to a T.8 and passed to 764 Squadron (FAA). Like many other Hunters it was re-purchased by Hawker-Siddeley and then converted to T.75 standard (one of four such aircraft modified under contract HSAL/68/SG/078) before delivery to Singapore. Note: it has been suggested that this aircraft may be c/n 514, (built as a T.7 for the Royal Netherlands Air Force and delivered in February 1959 - then re-purchased by Hawker-Siddeley and registered as G-9-153, before conversion to T.75 standard and delivery to Singapore at the end of September 1970). However, I have been advised by the owner of 516 that 514 crashed while in RSAF service. Aircraft 516 is currently in storage at Ardmore.
Last Text Update:- 27 June, 2003
Last Picture Update:- 27 June, 2003

---
Technical Data
Data is for Hunter FGA.9
Accommodation : 1
Dimensions

Span : 10.26m (33'8ft)
Length : 13.98m (45'11ft)
Height : 4.26m (13'2ft)

Weight

empty : 6020kg (13,270lb)
max : 10,885kg (24,000lb)

Power Plant : 4605kgp (10,150lb st) RR Avon mk.207
Performance :

max speed : 1,144km/h (710mph)
max climb : 8,000ft/min (40.7m/sec)
ceiling : 50,000ft (15.250m)
range : 789km (490miles)
---
Images
Under Restoration: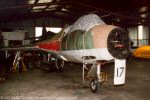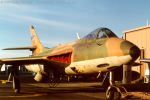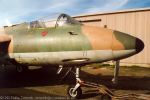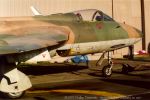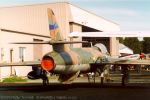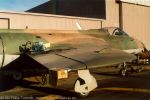 Post-Restoration: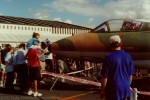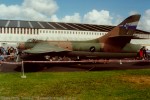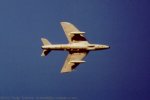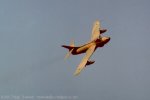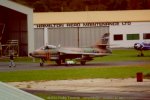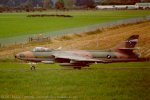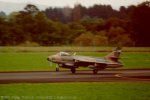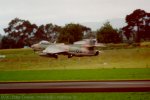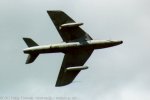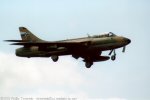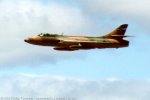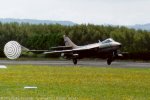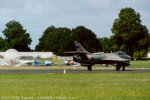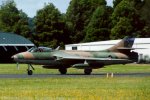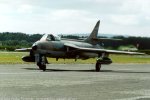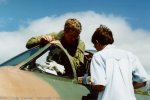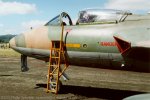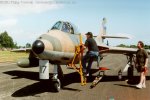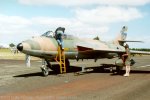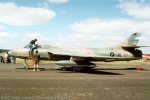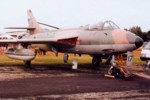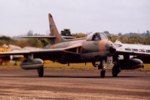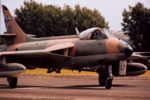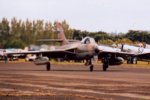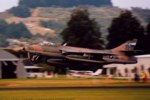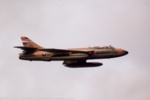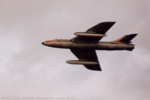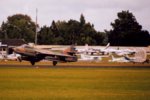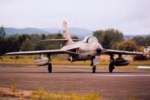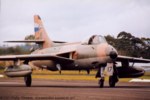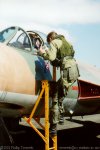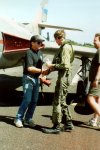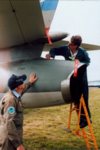 ---
Close Up
Remember to let me know if you have a request for an image of a particular part of the aircraft!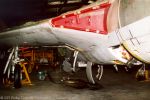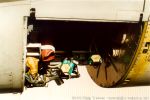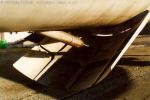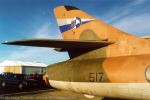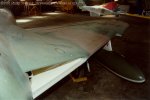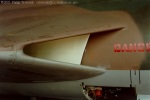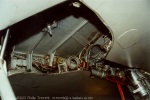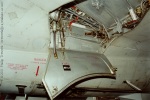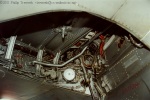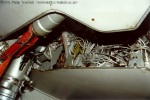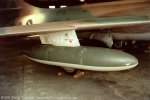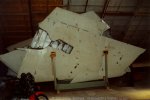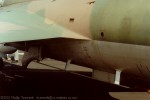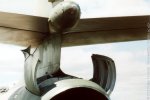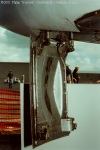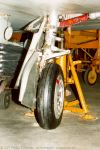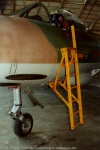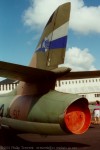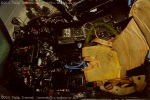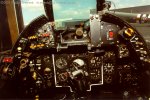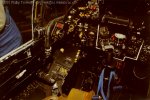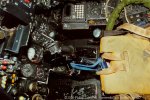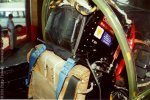 On March 4, 2001 I was fortunate enough to be able to watch Glen Turner of 'Warbird Egress Systems', Mike Blake from Rural Aviation, and Hunter Crew Chief Marcus Mewett remove the Mk.3-H ejection seat in preparation for maintenance. This meant I was able to get a good look at the seat - as shown below.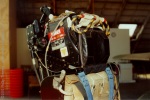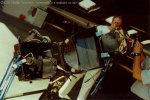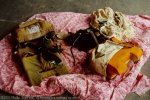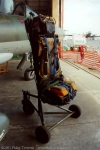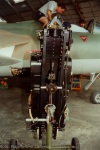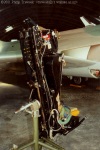 ---

&copy 1998-2003 Phillip Treweek, all rights reserved