Imperial War Museum
Lambeth, London :
October16, 2001
Having previously visited the Duxford Airfield near Cambridge, and the Cabinet War Rooms in London, both of which come under the Umbrella of the Imperial War Museum, I was keen to visit the Museum proper, which is housed in the former Bethlem Royal Hospital in Lambeth.
Getting There: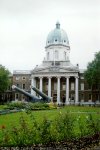 Had started the day with a visit to the Royal; Aeronautical Society at 4 Hamilton Place. I am Affiliate of the New Zealand Division. I spent a couple of hours in the library working on my bibliography project. The Librarian, Mr Brian Riddle, was very helpful. I met Louise outside - she'd spent the morning shopping - mostly at Hamleys. After a picnic lunch near the Wellington Monument, we tubed to Lambeth North (Picadilly line from Hyde Park Corner to Picadilly Circus, then the Bakerloo to Lambeth North). From the tube station it was an easy walk, and well sign posted.
The Museum:
The Museum is housed in the former Bethlem Royal Hospital in Lambeth Rd. The building has a classical facade, and is easily identified by the 15" Naval Guns mounted outside. (One is from HMS Ramillies, the otheris from HMS Resolution). We got our tickets and walked into the Atrium or large exhibits gallery. Wow! My eyes were drawn to the FW190, P-51D, and Spitfire Ia which hang from the roof, along with an He-162 'Salamander', a BE-2c, and a Sopwith 2F1 Camel. For me it was just fantastic!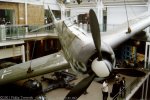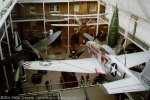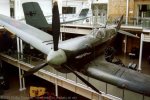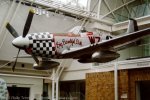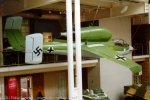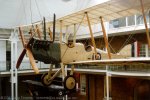 Top: Focke-Wulf Fw190A-8 w/n 733682, North American P-51D as 44-72258 'Big Beautiful Doll, and Vickers-Supermarine Spitfire Ia R6915; Middle: Heinkel He-162A-1 w/n 120235 and a view across the P-51D in the Atrium; Bottom: WWI survivors an RFC Royal Aircraft Factory BE2c 2699 and RNAS Sopwith Camel 2F1 N6812
On the ground floor are a variety of exhibits. Of particular interest to me were a number of Tanks including a WWI Mk.V and a Matilda (the first tank I modelled). The V2 and Poseidon missiles are seriously imposing. We walked upstairs so I could photograph the aircraft. On the two mezzanine floors which open onto the atrium were items like a Lancaster and Halifax nose sections, parts from Bf110 in which Rudolf Hess' flew to Scotland, and a Long Range Desert Group Chevrolet 30cwt truck.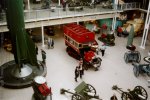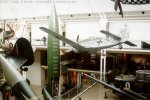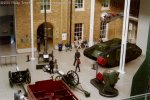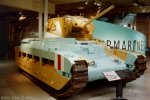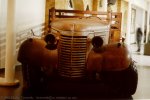 Top: Views of the Atrium; Bottom Left: Matilda Tank; Bottom Right: ChevroletLRDG 30cwt Truck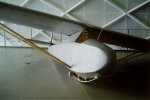 We climbed to the top of the building and on level 5 found a new exhibit - a replica of the Colditz glider. I'd seen the documentary it was built for, but was amazed to see it there. Then Louise wanted to see the Holocaust exhibition. We spent about 90 minutes working our way through the gallery which occupies 1200 square metres spread over two floors. I was quite disturbed by a model all in white which showed people disembarking from a train at Aushwitz. Pictures don't really let you appreciate how many people can fit on a train, and I thought about how many such trains there must have been. The only sight more disturbing for me was the casing from a 'little boy' nuclear device. It's hard to believe something so small could be so destructive.
Next we had a quick look at the 'Secret Soldier' section which tells the story of MI6, MI6, SOE, and more. By this stage we were getting a little footsore, but I'm pleased to be able to say I've actually seen an Enigma machine. From there we moved to the basement, but only got as far as the Trench Experience. It was already 4.30pm and we wanted to get through the tube before rush hour - which as it turned out that didn't happen! Still, travelling in rush hour counts as another experience ...
The Imperial War Museum could easily occupy several days for a visitor. We really didn't do it justice, and one day I hope to return. Highly recommended!
---

&copy 2002 Phillip Treweek, all rights reserved