Aermacchi MB339-CB
NZ6464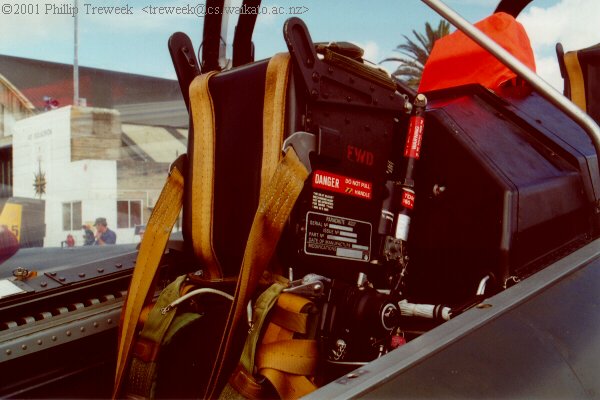 Taken at Whenuapai, March 17, 2001. Ejection seat - forward cockpit. The MB339 is fitted with the Martin Baker Mk.10L. Note the seat is marked FWD, as the front and rear seats have different rocket packs to separate the crew on ejection. The markings on the port side also include:
DANGER DO NOT PULL HANDLE
on the red panel and:
THE SEAT BUCKET
MECHANISM MUST
NOT BE OPERATED
FOR MORE THAN
1 MIN IN 8 MIN
in white underneath. There is also a data plate with the seat's serial number and other details. There is little to be seen on the bulkhead behind the seat .
---
---

&copy 2001 Phillip Treweek, all rights reserved