AirShows
Wings over Wairarapa:
January 28, 2001 - Hood Aerodrome, Masterton
The Wings over Wairarapa airshow is a two day biennial event organised by the Sport & Vintage Aviation Society which is based at Hood Aerodrome Masterton. This report has been broken into two sections. The other page can be found here.
I nearly missed out on this show as I'd written off the possibility of a ride down. Having missed the first day I spent much of the evening on the Internet - in fact I stayed online a bit long. I'd barely logged off at 12.30am when the phone rang. It was Noel Bailey saying a trip to Masterton was on after all. Great - the only snag was a 7.00am departure. Too excited to sleep - when I did doze off, our cat got in a fight. So I didn't get much sleep!
We travelled down in Noel's Tampico, ZK-TRW. We were actually airborne at 7.28am and found we had a glorious day for flying. It was fine and clear with 50km or more visibility, and amazingly smooth - no bumps at all till we reached the ranges south of Palmerston North. I took the chance to do a little map reading while keeping a look out - learnt a thing or two along the way as my cross country experience is rather limited. We arrived at Masterton at 9.23am.
Arrival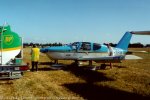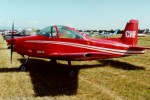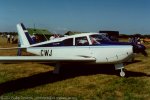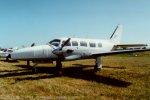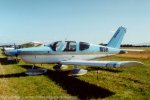 In the visiting aircraft park: Socata TB.9 Tampico ZK-TRW, Victa 100 Airtourer ZK-CHF, AESL T3A Airtourer ZK-CHF, Piper PA-24 Commanche ZK-CWJ, Piper PA-31-T3 Navajo ZK-FPL, and Socata TB.10 Tobago ZK-MBR
First job was to refuel.Had a quick look at what was in the aircraft park. Particularly interested in the Airtourers (I started my flight training on this type) and there were several colourful examples. Noel was interested in the Tobago - the big brother version of his Tampico. As usual, I found a few other types to photograph.
Walkaround
We then shuttled from the aircraft park to the display area. Had a bit of a walk around the static displays. Took the opportunity to look through the SVAS hangar and check out their displays before moving onto the display aircraft park.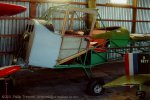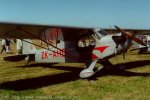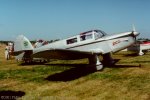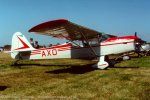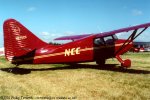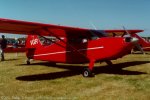 Top Row: some of the SVAS aircraft - the Chrislea Super Ace restoration project (ZK-ASI), a pre-war J-3 Cub ZK-AHD, and SVAS flagship Proctor V ZK-AQZ. Bottom row: visitors Auster J/1B ZK-AXO, and Stinson 108s ZK-NCC and ZK-VGR.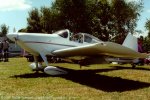 Not all of the interesting aircraft met the vintage criteria. A Vans RV-6 in the display area (pictured at right) had made the journey all the way from Perth, Australia flown by Airline Captain Graham Hewitt. I would have thought the flight across Australia would have been bad enough without going on to tackle the Tasman sea. Apparently Robyn, the pilot's wife, chose to fly commercial!

On the way around I met Ken Somerfield and Paul Harrison, who also do work for NZ Aviation News, and ran into well known NZ photographer John King.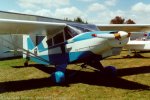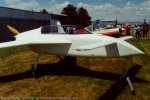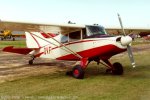 Also on display: Maranda AMF-514 ZK-JGR, Rutan ZK-VPR, and Maule M-5-210C ZK-DVF.
Wandered around some of the stalls and non aviation displays too. Found the AHNZS stand - chatted with Graeme McConnell and Peter Layne. Peter was busy selling his latest work on SPANZ. Although I've been a member for a few years I don't tend to get to mix with other members except by email - so it was nice to be introduced to some of the folks I'd corresponded with - like Cliff Jenks and Ron Brazier.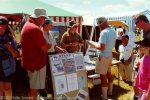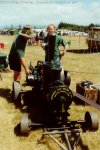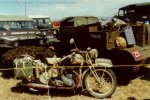 Above: The AHNZS stall, stationary engines, and militaria displays
Below: Frazer Briggs R/C aircraft, Wayne Parsons on commentary, and the crowd following a display.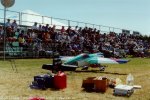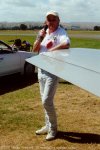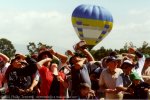 Then spent much of the day out in front of the control caravan. This put me in a good spot to catch one of the special events of the day - a call was put out inviting Air Force Veterans to come out to the Hurricane. Got a good photo of a surprising number of Battle of Britain vets who were present. Had a wonderful time - used too much film, and didn't drink enough water. At least I didn't burn.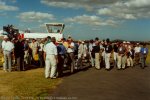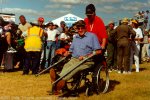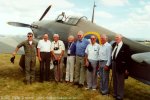 The veterans gather, Sir Tim Wallis with his wife Pru, and BoB vets by the Hurricane with Sir Tim and pilot John Lamont.
Agricultural Aircraft
One of the best features I found with this show was the agricultural aircraft theme. The Wairarapa region has had a strong aerial top-dressing industry since soon after WWII, and was the origin of a number of innovations. Particularly spectacular was seeing the Wanganui Aero Work's Tiger Moth giving a demo. This was the first real topdressing type used in this country, and it was the first time I'd seen one in action!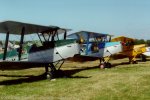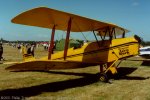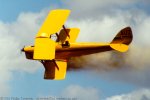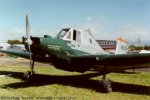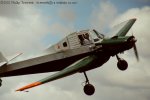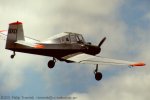 Top: DH-82a Tiger Moths, Bottom: Auster Agricola ZK-BXO
The other special display in the agricultural display was John Stephenson with the Auster Agricola. He had brought the aircraft down from Whitianga to its old stomping ground. The type was predominantly operated by Associated Farmers Aerial Work just down the road at Martinborough.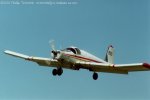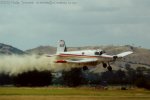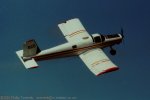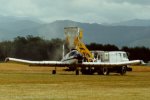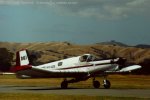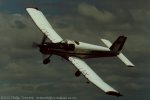 Above: Fletcher Fu24s going through their paces.
You can't have a display of NZ agricultural aircraft without including the ubiquitous Fletcher Fu24 - and there were several on hand. Although they started life with a somewhat smaller engine Fu24-950M ZK-BXS now has the 400hp powerplant up front, and ZK-DUJ has moved on to a turbine engine.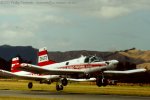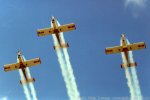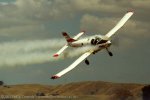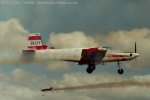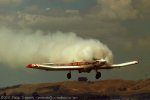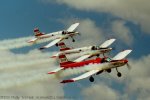 Above: The Wanganui Aero Works display team in action.
Latest development from the Fletcher line is the turbine powered PAC Cresco 08-600. The Wanganui Aero Work display team shows of the capabilities of the type in a stunning three ship formation exhibition - really worth watching. I've often said that military pilots may think they're the best, but ag-pilots really are the best!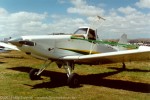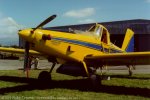 Left: Gippsland GA200C , Right: Air Tractor AT-402B
Similarity in function can lead to similarity to appearance. From overseas, some recent aircraft on display were the Gippsland GA200C and Air Tractor AT-402B which are starting to attract attention amongst the Kiwi agricultural fraternity.
The Wings over Wairarapa page is continued here.
---

&copy 2002 Phillip Treweek, all rights reserved