Shuttleworth Air Show Autumn Airshow
Old Warden :
October 7, 2001
When we visited Britain in 1997 I got to visit the Shuttleworth Collection on our last day (see here) During this UK visit, I managed to fit in one airshow. This was at Shuttleworth, and was something I'd wanted to do since I was a kid.
Getting There:
We departed from our friends at Hilmarton early on a day that didn't show much promise. The day seemed doomed from the start. We took a wrong turn and got stuck in a queue resulting from an accident (a car flipped). Then we seemed to follow every contractor's tractor in creation. As we neared Milton Keynes the weather looked to be getting worse and we gave some thoughts to giving up on the airshow and checking out Bletchley Park. But we pushed on.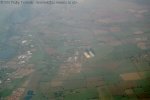 Airship sheds at Cardington: left - from the south, right - from the air.
As we turned onto the A600 near Bedford we noticed a couple of large buildings. As we hadn't originally planned on taking that route it too a little while to register that what I had initially thought was some kind of industrial complex was in fact the airship sheds at Cardington. I couldn't resist stopping to take photos. I must admit that the scale of these buildings doesn't really come through (over 100' tall and 800' long). However, the day we left England, we happened to fly over Bedford and I got the other picture which I think really does show the scale!
The Show:
From Cardington it was only a short hop to Old Warden. It was raining as we arrived and I seriously wondered if it had been cancelled. However the sight of a Spitfire flashing amongst the trees soon told us something was happening. It was raining as we parked. So we sat and watched from there for a bit. The Spitfire taxied in, and then a Pitts gave a display. Then I went for a walk - checked out the Flypast trailer, then onto the hangars. When I came out the far end, I had a walk along the flightline.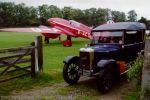 Vickers-Supermarine Spitfire Mk.V AR501/G-ASII, Gloster Gladiator I L8032/G-AMRK, De Havilland DH88 Comet G-ACSS
Managed to get pictures of some of my favourites - like the Comet, Lysander, and Gladiator. The Comet was run up (or at least one engine was), but not taxied. I discovered on my return to New Zealand, that G-ACSS has an NZ connection - so it now has a page to itself here. Struck some new aircraft - the Falcon and the Magister. These are not part of the collection but belong to Peter Holloway and are based at Old Warden along with his Miles Messenger.
Despite the horrific wind and the intermittent rain, the displays continued. I was really quite surprised, but I assume they're used to the conditions. The Falcon was lovely to watch. The Magister was up and down like a yoyo as it went round the circuit - then solid as a rock as it came over the threshold and greased on for a three-pointer. Watched a Tiger Moth practically hover - I've heard about this so many times, but never seen it before.
Was amazed that such a rare aircraft as the Hurricane was flown in the conditions. This one bounced something wicked - both departing and returning to terra firma. Felt the same Lysander when the took off - but it seemed to cope well. It was certainly a short takeoff.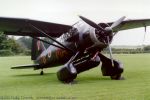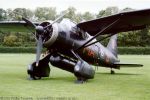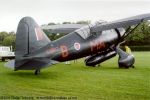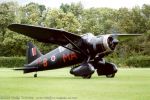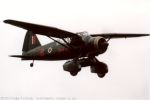 The Westland Lysander is a personal favourite - hence so many pictures. This one is V9367.
As the rain got worse, I retreated again to the shelter of the hangars. I was really impressed at the range of stalls - particularly the second hand book stalls. Managed to find three New Zealand aviation books. Seemed a bit strange to travel 12,000 miles to get them. Best buy was Brendon Deere's 'Military Wings'. Very rare, in really good condition, and only five quid - that's the sort of thing to make me day.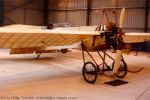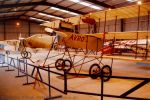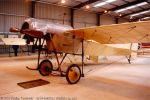 I didn't get any of the really old-timers fly. Here are some that were hangar bound. Left: 1910 Deperdussin G-AANH, Centre: a replica of the 1910 Avro Triplane IV G-ARSG, and Right: Blackburn Monoplane G-AANI
So despite the weather, I had a great day at the Shuttleworth Collection Autumn Airshow. Old Warden really is a hell of a location with the grass strip and surrounding trees. Shame the light on the day made photography such hard work. On a good day it must be just wonderful. But I guess it was Murphy's law at work for the one and only airshow on my itinerary. At least I got to see some of the aircraft in action. I just hope I get another chance one of these years!
---

&copy 2002 Phillip Treweek, all rights reserved