Boeing-Stearman Model 75 'Kaydet'
Background
This trainer's origins go back to 1933. Stearman's X-70 flew in December of that year, and was put forward as a contender for a USAAC contract for a primary trainer. It was unsuccessful, but re-engined and redesignated as the Model 73 it became the NS-1 in US Navy service (61 aircraft were purchased). This led onto the Model 75, which became one of the classic aircraft of the 1930's. Used by the US Army Air Corps (later the USAAF), the USN and several overseas air forces, more than 10,000 were eventually built, by a variety of manufacturers.
The aircraft exists in a number of variants, usually determined by the type of engine and equipment fitted. The original PT-13 as it was known in USAAC service came from an order for 26 aircraft in 1935 and was powered by a 215 hp Lycoming R-680-5. The PT-13A, of which 92 were built from 1937, featured a 220hp R-680-7 and improved instrumentation. 255 PT-13B were built from 1940 with an uprated R-680-11. The PT-13C model was a PT-13B equipped for night flying. The most numerous variant was the PT-17 (3,519 built), which was the PT-13A airframe powered by a Continental R-670-5. A limited number (150) of the PT-13A model were produced using the 225hp Jacobs R-755-7 due to engine shortages, and this was designated the PT-18 (with the PT-18A being a blind flying version).
The USN also used the model 75. The N2S-1, of which 250 were built, was powered by a Continental R-670-14 engine. The N2S-2 (125 built), carried a 220hp Lycoming R-680-8, and the N2S-3 (1,875 built) returned to Continental engines using the R-670-4. The N2S-4 was essentially a PT-17, and 99 of the 676 produced were diverted from PT-17 production. The ultimate develpment entered production in 1942, and was common to both Navy and Army service, designated the N2S-5 (1,450 built) or PT-13D (318 built).
Over a 1,000 Model 75s were exported to countries like Argentina, Brazil, Canada, and Venezuela. The name 'Kaydet' was originally applied to the 300 PT-27 aircraft exported to Canada , but through general use this has become a common name for all Model 75s. Although it should be pointed out that many people just use the manufacturers name as this has become synonymous with the aircraft. Boeing purchased the 12 year old Stearman company in 1939. Production of Model 75s ended in February 1945, with 10,346 aircraft completed. Like the DH-82a, its counterpart across the Atlantic, the aircraft served through WWII as a basic trainer, but the story did not end there. After the war ended many were exported for use by other Air Forces. Many were also converted for agricultural work (often converted to carry a 450hp Pratt & Whitney), and more than 4000 appeared on the American register in the 1950's. Today some of these aircraft continue to work for a living, although some have a more gentle life flying tourists, and the Stearman has also become a popular enthusiasts aircraft.
Since New Zealand was closely tied to Britain in the 1930's and 40's, the Stearman's role was taken by the DH-82a Tiger Moth. The appearance of the Stearman was therefore delayed in New Zealand skies. The first aircraft to be operated here was part of a project by MurrayAir of Hawaii in association with Air New Zealand to produce an agricultural aircraft. One aircraft (designated an MA-1) was modified and test flown by Air New Zealand in 1968. Another was produced in Hawaii. The next original Model 75 was N4036 (c/n 75-5064), a 1943 model imported by Len Cowper in 1982, and based at Ardmore for a number of years, before he took it with him to Hawaii in 1995. The aircraft has now returned, and joined the New Zealand register as ZK-JID (described below). Five Model 75's currently grace New Zealand Skies:
ZK-AZR a A75-N1/PT-17 (c/n 75-5236, ex N1300V, C-GPDR) built in 1943 as BuNo61114 for the USN and transferred to the USAAF as 42-17073. I have no records available to me prior to 1970, but the aircraft was registered at that time to C.R. Baker of Simsbury, Connecticut as N1300V. In that year the aircraft passed to Simsbury Air Service Inc, and in 1981 to L.R.Smith of Collinsville, also in Connecticut. The US registration was cancelled on April 29, 1994, and on May 27 the aircraft was registered C-GPDR to Caribou Aircraft Co of Berwick, Nova Sotia. The aircraft was purchased by Steve Bicknall in 1997 in Nova Scotia. The aircraft was registered ZK-AZR on November 5, 1997 and had its first New Zealand flight on November 11th. It is now operated at North Shore.
ZK-JID a PT-13D (c/n 75-5064, 42-16901, PI-C543, N4036) built in 1943 served as 42-16901 with the USAAF before moving onto the Philipines as one of 25 arcraft donated in 1946. The aircraft entered the civil register after being declared surplus as ex-PI-C543 to G.Miller Jnr of Manila. The aircraft passed to Frank Jamison who had the aircraft registered in the US as N4036 (March 9, 1971) and rebuilt in Manila over several years. Len Cowper purchased the aircraft and relocated it to Hong Kong where he worked. He brought the aircraft to New Zealand in 1982 and the aircraft operated from Ardmore. The aircraft was stored after Len moved to Hawaii in 1984, but was eventually exported in 1994. He brought it back again in 1996. Since its return the aircraft has been recovered and now appears in a USAAF scheme. The Lycoming R-680-17 powered aircraft finally entered the New Zealand civil register on November 27, 1998.
ZK-STM an A75-N1/PT-17 (c/n 75-2724, ex 41-25235, N53043). Built in 1941, the aircraft was allocated to the USAAF as 41-25235. After the war, the aircraft was sold as surplus and converted for agricultural work with a 600hp Pratt & Whitney up front. First registered in 1952 as N53043, the aircraft appears to have spent its career in California. It passed through several owners including A.V. Aircraft, and Western Ag Services. In 1972 the aircraft was re-converted to a 220hp Continental R-670 and refurbished by A.W. McDonnell. The restorer held onto the aircraft until 1977 when the aircraft was sold to J.A. Torbit. The aircraft was in Santa Paula, Ca when sold to Dave Horsborough and Rob Craven who brought it to New Zealand. The US registration was cancelled on October 26, and they had it registered ZK-STM on November 9, 1994. The aircraft was later registered to Vincent Aviation. Today the aircraft is operated by Barnstorm Enterprises in Christchurch,
ZK-XAF a 1942 E75 (c/n 75-5907, ex N5132N, N1028T, VH-HLV) XAF was built for the USN in 1942 (BuNo61785) before being passed onto the USAAF for work as a trainer as 42-17744. Sold for scap in 1949 (for the amazing price of US$107.88) the aircraft was later registered as N5312N to P.W Whitt in Idaho. This registration was cancelled in 1970, but the aircraft was re-registered in 1979 as N1028T to an owner in Oregon. The aircraft was sold for conversion for agricultural work, and rebuilt by John Pike at Big Sky Aviation in 1983. The aircraft was later exported to Australia where it became VH-HLV in 1988 to Transcorp Pl, NSW. By March of 1990, the aircraft was in the hands of K.Anderson of Kingaroy, Queensland. Jon Anda was registered as owner on May 10, 1996 and was responsible for importing XAF to New Zealand - bringing the aircraft to Motueka in June 1997. XAF was re-registered to the Nelson Aero Club on February 10, 1997, and later moved to Rotorua (changing ownership on June 9), where it is used by White Island Airways for tourist operations. (The aircraft is illustrated in the closeup section below. My thanks to Richard Shepeard and White Island Airways for letting me climb around their aircraft).
The fifth aircraft is owned by TV personality Paul Holmes. Imported in 2000, it has not yet joined the New Zealand Civil register, and being operated under its US registration. I do not have any further details on the aircraft.
Last Text Update:- 21 May, 2001
Last Picture Update:- 2 December, 2002

---
Technical Data
Data is for the PT-13D
Accommodation : 2
Dimensions

Span : 9.80m (32'2ft)
Length : 7.32m (24'1ft)
Height : m (ft)

Weight

empty : 978kg (1,936lb)
max : 1,232kg (2,717lb)

Power Plant : 225hp Lycoming R-680-17
Performance :

max speed : 200km/h (124mph)
max climb : 840ft/min (256m/min)
ceiling : 11,200ft (3414m)
range : 813km (505miles)
---
Images
Close Up
Remember to let me know if you have a request for an image of a particular part of the aircraft!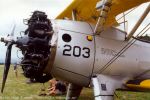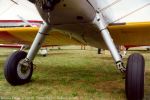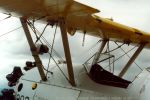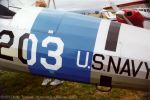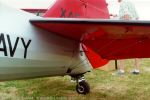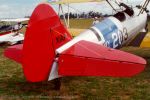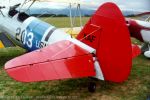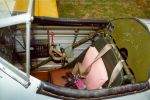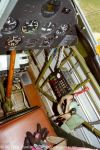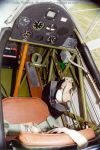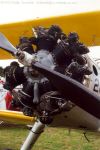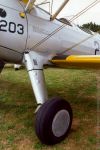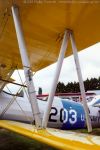 ---

&copy 1996-2002 Phillip Treweek, all rights reserved