Stinson 108 Voyager
Background
The Stinson Aircraft Corporation grew out of the Stinson Aircraft Syndicate formed by Eddie Stinson in 1926. The company produced a number of aircraft including the Detroiter, Junior, Trimotor, Reliant and Vigilant. The Voyager grew out of the 1939 Model 105, a three seater powered by a 75 or 80hp engine. In 1941, by which time the company had become a division of Vultee Aircraft Inc (which in turn became part of Consolidated Vultee), the Model 10 Voyager was introduced. The Model 10-A featured a wider cabin, along with changes to the interior and equipment, and was powered by a 90hp Franklin 4AC-199-E3 engine. About 750 of these were produced, along with a few 75hp Lycoming GO-145-E3 powered Model 10-B. Six aircraft powered by 80hp Continental O-170-1 engines were supplied to the USAAF for evaluation as the YO-54. Accepted for service, this became the hugely successful L-5 Sentinal.
At the end of the War in August 1945, the Model 108 was rolled out with an eye to the potential civilian market. This was a four seat aircraft with cleaner lines than the earlier model, and incorporated an number of improvements derived from the manufacturers militart experience. The initial model was the Voyager 125 powered by a 125hp Avco Lycoming. This was followed by the 108-1 Voyager 150 with a Franklin 6A4-150-B31 powerplant. A utility version was also produced known as the 'Station Wagon' which could be fitted with floats or skis. The 108-2 featured the 6A4-150-B3. The 108-3 Voyager 165 had the more powerful 165hp 6A4-165-B3, a larger vertical tail and increased fuel tankage.
Stinson had produced more than 5000 Voyagers by mid-1948, when the civil light aircraft market slumped as the US Air Force disposed of its surplus stocks. In November of that year, the Stinson division was sold to Piper, who continued to market the aircraft. However, production was cancelled in the following year.
New Zealand's Stinson population has been very small. A pre-war built Reliant SR-10C (c/n 3-5902) ex NC21133, BS803, G-AGZV, VP-KDV) was imported in 1954 as ZK-BDV. The five seater was operated by James Aviation, but was unfortunately destroyed by fire at Rotorua in September 1957. A related model, a Stinson Vigilant L-1C-VU (c/n? ) 40-283 is stored in a damaged condition in Auckland. The remainder have all arrived during the 1990's.
ZK-NCC (c/n 108-3752 ex N752C) is a 1947 built Model 108-3. First flown on October 29, 1947, the aircraft went initially to R.L. Brown in Portland, Oregon before going to L.T. Pacini in Redwood City, California. The aircraft stayed in California, with next owner was R.B Everitt of Magalia in 1976, and then A.L. (Tony) Wright of Meadow Vista. He restored the aircraft, and installed a 220hp Franklin engine. The aircraft was cancelled from the US register in November 1997, becoming ZK-NCC on November 25th. The aircraft is registered to AgPower Sales (NZ) Ltd, and is airworthy at Waipukarau
ZK-STN (c/n 108-3585 ex N785C) is a 1947 built Model 108-3. The aircraft was initially registered to George Tilit in Montana, where it spent much of its life, later passing to Flying CDC Int of Helena. In April 1979 the aircraftwas registered to R.E.Lewis of Deer Lodge, before passing to J.J.Payer Jnr of Forsyth in July, 1981. The aircraft moved to California, being registered to C.J.Smith of Santa Paula in December 1995. The US registration was cancelled in March, 1996 with the aircraft becoming ZK-STN on March 20. First registered to AgPower Sales (NZ) Ltd, the aircraft now belongs to J&N Partners, and is airworthy at Hastings.
ZK-VGR (c/n 108-2317 ex N9317K) is a 1947 built Model 108-2. The aircraft has spent much of its life in California, originally being registered to W.A.Hall of Burbank. In 1970 the aircraft passed to D.M.Winkler of Van Nuys, before going to M.I.Hall of Burbank in 1971. In July 1972 the aircraft again went to a W.A.Hall of Burbank. The aircraft stayed there until May 1993 when it was registered to N.MRogers of Sylmar. The US registration was cancelled in February, 1996 with the aircraft becoming ZK-VGR on March 20. The aircraft was registered to H.H.Ross, and is airworthy at Hastings.
Last Text Update:- 3 October, 1999
Last Picture Update:- 2 December, 2002

---
Technical Data
Data is for Stinson 108-3
Accommodation
Dimensions

Span : 10.3m (33'11ft)
Length : 7.7m (25'2ft)
Height : 2.3m (7'6ft)

Weight

empty : 587kg (1,294lb)
max : 1,088kg (2,400lb)

Power Plant : 165hp Franklin 6A4-165-B3
Performance

max speed : 235km/h (146mph)
max climb : 770ft/min (235m/min)
ceiling : 14,000ft (4,267m)
range : 892km (554miles)
---
Images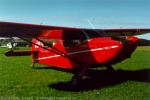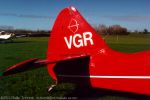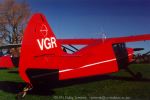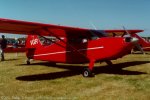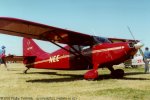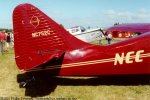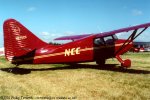 ---

&copy 1999 Phillip Treweek, all rights reserved