Short S.25 Sunderland / Sandringham
Background
Sunderland: The S-25 Sunderland was a development by Shorts of the 'C' class flying boat. Intended to meet a specification for a 4-engine coastal patrol/ long range reconaissance aircraft, production was ordered by the Air Ministry in March 1936 even before the prototype was complete. The design incorporated Fraser-Nash turrets in the nose and tail, a re-positioned flight deck to accomodate the changes to the nose, and a sweep back on the wings to allow for a shift in the centre of gravity. The fuselage was split in two decks with a bomb room beneath the wings - bombs or depth charges being winched out on racks below the wings. The crew comforts included rest bunks, a galley with two primus stoves, and a naval style flushing head. The prototype (K4774) flew in October 1937, and the type entered service with the RAF in the following year. The aircraft was produced as a Mk.1 with Pegasus XXII engines (75), Mk.II with more powerful XXIII engines (58), Mk.III with modified planing hull and a dorsal turret (407), and in 1943 the Mk.V with 1200 hp P&W R-1830 Twin Wasp engines (143). The Mk.IV was later designated the Seaford and was the progenitor of the Solent (1 completed as a Seaford, 6 converted to Solents).
The RNZAF initially operated Four Mk III Sunderland Transport aircraft (NZ4101-4104). The transport variant of the Sunderland was originally developed for BOAC from the standard Mk.III in 1942, and began international operation in March 1943. These unarmed aircraft had the military equipment removed, fairings over the turret positions and an improved interior catering for 24 to 30 passengers. In January 1944 the British Secretary of State for Dominion Affairs offered the New Zealand Government four at a very reasonable rate. Although the sale was initially opposed by the US (which saw the aircraft as potential post-war airliners), the aircraft were delivered by air (taking a westerly route through Africa and the Americas) between October and December 1944. Officially brought on charge on December 4th, the aircraft were allocated to the Flying Boat Transport Flight and based at Hobsonville. After repainting and interior reconfiguration for the combined passenger/freight role, the aircraft began operation in February 1945. The routes were primarily Auckland-Fiji, and Auckland-Noumea-Espiritu Santo. With the end of the war the aircraft were heavily involved in repatriating service personnel until they were laid up at the end of 1945.
The four aircraft were:
ML792 NZ4101 'Tainui'
ML793 NZ4102 'Tokomaru'
ML794 NZ4103 'Mataatua'
ML795 NZ4104 'Takitimu'
The next phase in their service began in early 1946. During February and March, NZ4101 and NZ4102 were used by TEAL for training crews while they awaited delivery of their Sandringham aircraft. Representations to Government resulted in the re-establishment of a service to Fiji and on June 6, 1946 a weekly flight schedule commenced using NZ4102. In the meantime NZ4103 was converted for civil service, the work taking till October and the first post-conversion flight occuring on October 26th. By December 1946, 90% of the passengers on the Fiji service were fare paying civilians, and the government was under pressure to turn the operation over to a civil airline. The New Zealand Government had 'nationalised' domestic airline services and the New Zealand National Airways Corporation officially began operation on April 1 1947. However NAC lacked suitable international agreements and until these were finalised, the RNZAF continued to operate the services. On November 1 1947 NAC officially took over the South Pacific services being conducted by the RNZAF. In preparation for this the four aircraft were transferred to NAC on September 30. NZ4102 was registered as ZK-AMF and NZ4103 as ZK-AMG. However ZK-AMF was returned and its registration cancelled on December 22. In its place NZ4104 was civilianised and became ZK-AMK. (NZ4103 had been carrying out the service and NZ4102 was the 'standby'. Engineers considered NZ4104 to be the better airframe). In early 1948 NAC also began scheduled services from Wellington to the Chatham islands. However NAC were never very happy with operating the Sunderlands (they were underpowered and suffered numerous engine problems, as they had in RNZAF service) so they sought to pass the routes to TEAL. This occurred on June 6, 1950. The final service was by ZK-AMK over May 30-31. The aircraft made its final flight on June 1 after which it was delivered to Hobsonville.
The remaining aircraft were returned to the RNZAF (NZ4101 had been broken up for spares in 1949). The three beached aircraft were put up for tender by the Government stores board in May 1951. NZ4103/ZK-AMG and NZ4104/ZK-AMK were subsequently readvertised. NZ4102 was broken up in 1953-54. NZ4104 had a brief return to service in 1952 for use in conducting water and beaching drills as the RNZAF prepared for the arrival of GR Mk.5 Sunderlands. The remaining two Mk.III Sunderlands were broken up in 1955.
The RNZAF received 16 refurbished RAF MR.5 aircraft (NZ4105-4120) in 1953. These aircraft were allocated to No's 5 and 6 SQNs which operated them in long range maritime reconnaissance, ASW and SAR duties. Although chosen to meet New Zealand's commitment to patrol large areas of the South Pacific, the aircraft are probably best known for their 'Angel of Mercy' role - conducting mercy flights, delivering aid to civil disasters and carrying out searches. The aircraft were based at Hobsonville, and at Lauthala bay in Fiji. No 6 SQN was disbanded in 1957, and No 5 SQNs strength was steadily reduced until the Sunderlands were phased out in 1967. Two aircraft were lost in service - NZ4111 struck a reef in the Chathams in November1959 (where some of the wreck remains) and NZ4117 was written off after an accident at Tarawa in April 1961. NZ4108 was sold to Australian interests in 1963. Two aircraft (NZ4116 and NZ4119) had been dismantled for spares. NZ4110 became INST183, but was scrapped in the mid-1960's. One aircraft was given to MoTaT in 1966, and the remainder were sold for scrap (1965-67).
The aircraft were:
| | | | | |
| --- | --- | --- | --- | --- |
| Identity | | Builder | RNZAF Service | Fate |
| NZ4105 | ex PP110 | Shorts (Rochester) | 13/06/53 - 02/08/66 | sold for scrap, broken up Hobsonville |
| NZ4106 | ex RN280 | Blackburn (Dumbarton) | 24/04/54 - 03/05/67 | reduced to spares, Lauthala Bay |
| NZ4107 | ex VB883 | Blackburn (Dumbarton) | 22/09/54 - 03/05/67 | sold for scrap, broken up Hobsonville |
| NZ4108 | ex ML814 | Shorts (Belfast) | 13/06/53 - 12/12/63 | see below |
| NZ4109 | ex DP191 | Shorts (Windemere) | 21/07/53 - ??/??/65 | sold for scrap, broken up Hobsonville |
| NZ4110 | ex PP129 | Shorts (Rochester) | 05/10/53 - 14/10/59 | became INST183, scrapped 1964 Hobsonville |
| NZ4111 | ex VB880 | Blackburn (Dumbarton) | 06/09/53 - 04/11/59 | wrecked Te Whaanga Lagoon, Chatham Islands. |
| NZ4112 | ex VB881 | Blackburn (Dumbarton) | 02/04/66 - 02/04/66 | sold for scrap, broken up Hobsonville |
| NZ4113 | ex PP124 | Shorts (Rochester) | 07/08/54 - 03/05/67 | sold for scrap, broken up Hobsonville |
| NZ4114 | ex SZ561 | Shorts (Belfast) | 02/08/54 - 06/02/67 | sold for scrap, broken up Hobsonville |
| NZ4115 | ex SZ584 | Shorts (Belfast) | 17/11/53 - 09/12/66 | see below |
| NZ4116 | ex EJ167 | Shorts (Belfast) | 27/07/53 - 06/02/67 | sold to Northland Coastguard, displayed Whangarei, scrapped after being heavily vandalised |
| NZ4117 | ex RN286 | Blackburn (Dumbarton) | 09/05/55 - 18/8/61 | Damaged at Tarawa, and scrapped Lauthala Bay |
| NZ4118 | ex RN306 | Blackburn (Dumbarton) | 13/05/54 - ??/??/65 | sold for scrap, broken up Hobsonville |
| NZ4119 | ex PP143 | Blackburn (Dumbarton) | 22/04/54 - 02/10/62 | Reduced to Spares |
| NZ4120 | ex RN291 | Blackburn (Dumbarton) | 06/05/54 - 02/08/66 | sold for scrap, broken up Hobsonville |
The survivors are:
NZ4108 (c/n974, ex ML814) was held in storage when it was was sold to Ansett Flying Boat Services in 1963. It was delivered to Australia in December, registered as VH-BRF and named 'Islander'. After conversion to passenger configuration, it was used on the Lord Howe run. When land based services began in 1974 it was sold to Antilles Air Boats. Reregistered as N158J and renamed 'Excalibur VIII' by owner Capt.Blair it departed for its new home in the Caribbean on September 25, 1984. As US authorities did not recognise Ansett's workshop as an authorised conversion facility they would not issue a CoA for passenger work, so the aircraft was laid up - where it provided spares for VH-BRC (see below). After Capt.Blair's death in a flying accident in 1978 the aircraft was put up for sale. In 1979 the aircraft was sold to Edward Hulton and repaired for a flight to Britain, where it arrived in May 1981. Flown on to Marignane, Marseille, France on 24 May 1981, it underwent further restoration work. It was registered as G-BJHS and used for passenger flights. Damaged in a gale in October 1987 it was again restored and based at Chatham. Plans in 1989 to acquire the aircraft as part of a Museum for Foyne, Eire fell through and the aircraft was laid up at Calshot. In 1991 the aircraft auctioned by Sothebys but failed to reach reserve. In 1993 the aircraft was purchased by Kermit Weekes. It departed from Calshot on July 23, 1993 to become N814ML. Today it is the last Sunderland in airworthy condition (although the last reported flight was in 1996), and is with Kermit Week's collection in Florida.
NZ4115 (c/n1552) was built for the RAF (SZ584) in 1945, and in May 1946 was loaned to BOAC (G-AHJR). After being returned to the RAF, the aircraft was refurbished prior to being sold to the RNZAF. After being retired by the RNZAF, the aircraft was donated to MoTat in December 1966. Now sitting on beaching gear, it is illustrated below.
In addition parts of NZ4111 (ex VB880) and NZ4112 (ex VB881) are on display in several locations in Christchurch. The flight deck and nose of NZ4112 is held by the Ferrymead Aeronautical Society, while various other parts of NZ4111 recovered from the Chatham Islands are on display at the RNZAF Museum. (illustrated below).
Sandringham: The S.25 Sandringham had its origin in the Mk.III Transport variant of the Sunderland described above. BOAC had operated twenty-four of these during the war. After refurbishment of these aircraft to a more 'airline-like' standard, these were known as the 'Hythe' class. One of these (G-AGKX ex ML788) was rebuilt at Rochester to produce the Sandringham Mk.I in November 1945. The changes were primarily to add a more streamlined nose and tail structure in place of the previous fairings. A more streamlined windscreen was added and a mooring compartment in the nose more like the earlier S.23 'Empire' boats was fitted. The interior of the aircraft was fitted out for 24 seats or 16 berths on two decks and had seperate bar and dining facilities. The sole example of the Mk.I was fitted with Pegasus XXIII engines. The remainder were fitted with P&W R-1830 Twin Wasp engines. Twenty-eight further Sunderlands were converted.
The P&W R-1830-92B powered Mk.II was fitted out for 43 passengers. Three were converted for Flota Aerea Mercante Argentina (FAMA), an Argentinian operator. The Mk.III which went to the same operator was originally distinguished by a smaller number of passengers - but the two aircraft were later changed to the Mk.II configuration. Four of the P&W R-1830-92C powered Mk.IV with Accommodation for 30 and an extended range were converted for TEAL (more on these below). The Mk.V had Accommodation for 30 (later reduced to 22) on a single deck and was powered by P&W R-1830-92D engines. Nine were converted for BOAC who operated them as the 'Plymouth' class. The three Mk.VI aircraft were converted for Det Norsk Luftfartselskap (DNL) in Norway. The 30 seat Mk.VII was originally intended for the BOAC New York-Bermuda run. Three were converted and although actually flown on South African and Far Eastern routes were known as the 'Bermuda class. (JM719 G-AKCO/VH-APG/F-OBIP survives at Le Bourget)
When the war ended Tasman Empire Airlines (TEAL) looked to replace its two S.30 Flying Boats which had been in operation on the Tasman route since 1940. Airline preference was for DC-4 aircraft, but political pressure meant that flying boats would be retained. At that time the Solent was still under development, so in the interim four Sandringhams were leased from the British Ministry of Supply. The aircraft had been converted at Short Bros & Harland's factory in Belfast, and were then flown to New Zealand. Operations from the Waitemata Harbour in Auckland to Rose Bay in Sydney commenced in September 1946 and the S.30s were withdrawn on October 29). TEAL went from 9 scheduled services per fortnight in August to daily services (except Sunday) at the end of September. The Auckland-Sydney services were later expanded to include Wellington-Sydney
The services were not without difficulty and the aircraft engines were found to be prone to overheating. The aircraft were not pressurised so could not go above 10,000 feet and were subject to the vagaries of the weather (the Tasman is noted for its bad weather). On December 3 1947 a near disaster occured when ZK-AME suffered engine problems and with one engine out was forced to within 100 feet of the sea. The descent was arrested by the jettisoning of freight (including mail) and luggage. A subsequent commission of inquiry found irregularities in the issuing of a CoA for the Sandringhams as some performance figures had not been supplied by the manufacturer. All four aircraft were grounded on February 23 1948 while paperwork and mechanical problems were sorted out Changes were subsequently made to the engine cowling and baffles which solved some of the problems. (In sweeping the wings of the Sunderland, Shorts had not changed the angle of the engine to the leading edge - this was rectified with the Solent IV). Sandringham operations resumed on June 17, 1948. In the interim, scheduled services were carried out with leased DC-4 aircraft. In another incident an aircraft made a hurried landing after suffering engine failure while taking off from Rose Bay in Sydney. It was subsequently found that Air Ministry supplied barrels of lubricating oil contained tanning oil.
The long awaited Solent IVs began delivery in September 1949, and went into service on November 14. The last TEAL Sandringham scheduled service was made (ironically by ZK-AME) on December 19. The aircraft were subsequently sold off, as detailed in the aircraft histories below. The aircraft were:
ZK-AMB (ex ML761) 'RMA Tasman'. Converted to Sandringham by Shorts at Belfast in 1946. Delivered to TEAL July 17, 1946. After TEAL services ended, the aircraft was sold to Quantas on April 18 1950 and registered VH-EBW. A year later the aircraft was damaged in a landing accident (April 4) at Rose Bay which resulted in the loss of a float and heavy damage to the wing. The aircraft was repaired, but was then written off after hitting a coral head while taxying prior to takeoff at Vila in the New Hebrides (now Vanuatu).
ZK-AMD (ex NJ255) 'RMA Australia'. Converted to Sandringham by Shorts at Belfast in 1946. Delivered to TEAL August 5, 1946. After TEAL services ended, the aircraft was sold to Quantas on April 13 1950 and registered VH-EBX. It was renamed 'Pacific Chieftain'. On September 3 1951 the aircraft's port wing was damaged in a collision with the safety launch at Rose Bay. Sold to Ansett Flying Boat Services on December 10, 1954. Operated on the Lord Howe Is route until July 3 1963. The aircraft had broken its moorings and capsized in a gale. It was stripped of all salveable equipment and then sunk outside the island reef.
ZK-AME (ex NJ179) 'RMA New Zealand'. Built by Blackburn at Dumbarton as a Sunderland III. Assigned to 330 Squadron July 1944. Delivered to Shorts at Belfast for conversion to Sandringham in 1945. Departed UK August 23, 1946. Delivered to TEAL September 4, 1946. First TEAL scheduled service September 17, 1946. First Sandringham flight to Fiji - May 1947. Made last TEAL scheduled service December 19, 1949. Subsequently sold to Barrier Reef Airways in 1950, registered as VH-BRD and renamed 'Princess of Cairns'. Operated between Brisbane, Townsville and Cairns and various offshore islands. The aircraft sank in the Brisbane river after being damaged at its mooring by a ship on September 10, 1952. It was salvaged but again sank while under tow to Coolangatta (where it was to become a nightclub).
The fouth and final TEAL Sandringham is the sole survivor:
ZK-AMH (ex JM715) 'RMA Auckland'. Built by Shorts at Rochester as a Sunderland III. Delivered to 1 FBSU (Wig Bay, Stanraer) July 8, 1943. To 57 FBMU (Wig Bay, Stanraer) January 8, 1944 and held as a reserve aircraft. Sent to SARO at Greenock in April 1945 for conversion to Sunderland V. Returned August 3, 1945 and stored. Delivered to Shorts at Belfast April 30, 1947 for conversion to Sandringham. Departed UK October 15, 1947. Delivered to TEAL October 28, 1947. After TEAL services ended, the aircraft was sold to Barrier Reef Airways in 1950, registered as VH-BRC and renamed 'Beachcomber'. The aircraft was placed in storage till it took over from the unfortunate ZK-BRD on December 27, 1952. The airline and its aircraft were sold to Ansett Flying Boat Services in 1953. The aircraft continued on its previous routes, but also operated on the Lord Howe run and carried out charter flights in Australia and the Pacific. The later includede several charter visits to New Zealand in the late 1950's. The aircraft arrived at Bluff to deliver passengers to Invercargill and carried on to several other New Zealand cities. On June 9 1974 the aircraft ran ashore at Lord Howe Is after breaking its moorings in a gale. Temporary repairs were made, and the aircraft returned to Rose Bay for major repairs. It carried out the last Flying Boat service to Lord Howe on September 10, 1974. Sold to Antilles Air Boats (along with VH-BRF/NZ4108), the aircraft (renamed 'Southern Cross' and registered as N158C) departed Sydney on November 28. The aircraft was re-registered as VP-LVE in the Virgin Is where it made unscheduled services. In 1976 the aircraft was flown to Lough Derg in Eire, and onto Poole in England where a number of passenger flights were conducted. This was repeated in 1977 with visits to Lough Derg and Calshot. In 1978 the aircraft owner was killed in a flying accident, and the aircraft became derelict. In 1980 while under threat of scrapping, the aircraft was taken over by former Antilles Air Boats chief pilot Ron Gillies. He along with other enthusiasts raised money to repair the aircraft and it was flown from Puerto Rico to Eire in October. The aircraft arrived at Calshot after its last flight on February 3 1982, where it was beached. It was refloated, then taxied to Lee-on-Solent on July 7, 1981. The aircraft was sold to the Science Museum who subsequently agreed for it to be housed in a new museum at Southampton. On March 1 1983 the aircraft was transferred by barge to Southampton, and unloaded the next day. The aircraft then underwent restoration and was moved in a dissassembled state to the Museum on August 27 and 28, 1983. Reassembled, the aircraft was prepared for display in the colours of VH-BRC in its time with Ansett Flying Boat Services. The Southampton Hall of Aviation was opened on May 26, 1984. The aircraft remains on display today. (illustrated below).
Last Update:- 29 November, 2001

---
Technical Data
Data is for Sunderland MR.5
Accommodation : 10
Dimensions

Span : 34.4m (112'10ft)
Length : 26.0m (85'4ft)
Height : 10.0m (32'11ft)

Weight

empty : 15,663kg (34,500lb)
max : 29,545kg (65,000lb)

Power Plant : 4x 1,200hp P&W R-1830-90D Twin Wasp
Performance :

max speed : 341km/h (213mph)
max climb : 720ft/min (220m/min)
ceiling : 16,000ft (4,880m)
range :2,848 km (1,780miles)
---
Images
ZK-AMH / VH-BRC : On October 4, 2001 I had the pleasure of visiting the Southampton Hall of Aviation. The Sandringham aircraft is in excellent condition, and is only one of a number of interesting exhibits. More pictures from my visit can be found here. The museum staff are happy to guide visitors around the Sandringham (including the flightdeck). The pictures below give an idea of the beauty of the aircraft.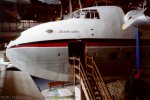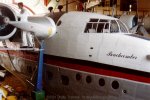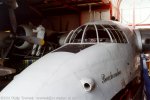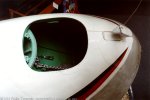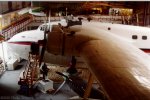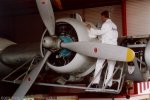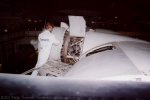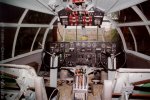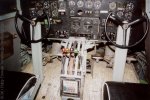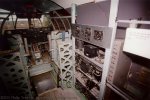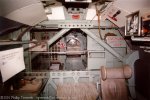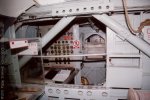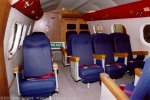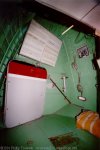 NZ4115 : These pictures of NZ4115 show the aircraft between 1993 and 1998 - the improvement in the state of the aircraft in the intervening period is quite noticable. Restoration is continuing - the major work is expected to take another 2-3 years. Plans are also underway to get the aircraft permanently under cover.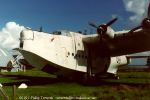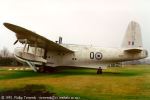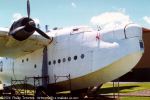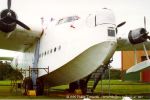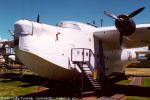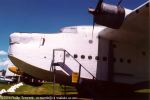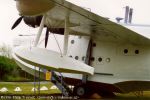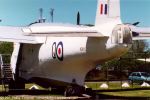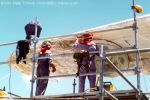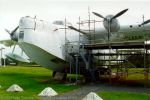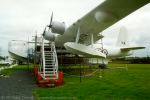 Close Up
Not too specific yet - but I intend adding to this set. Remember to let me know if you have a request for an image of a particular part of the aircraft!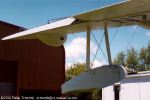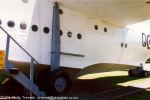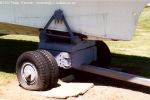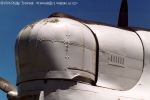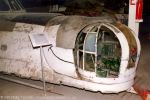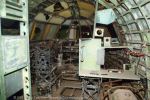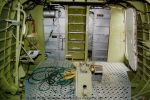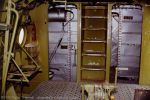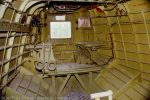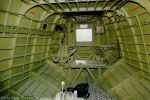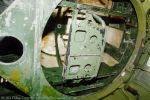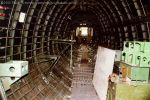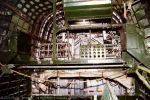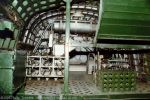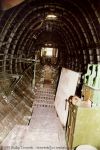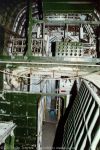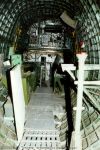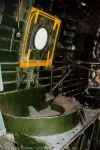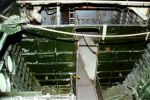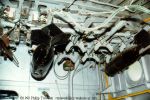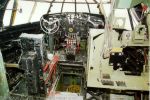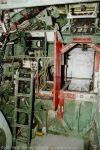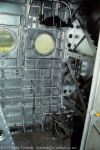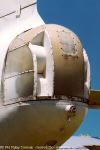 ---

&copy 1996-2001 Phillip Treweek, all rights reserved