RNZAF Vehicles
Background
I have had a number of inquires from people wanting details on RNZAF vehicles. Mostly these have been modellers looking to fill out their dioramas. This page is intended as a step toward presenting some of those details. Content is a wee bit thin at the moment, but I will add to it.
Last Update:- 5 May, 2002

---
Fire Emergency Vehicle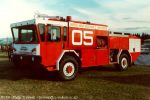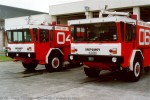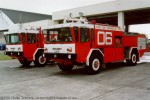 Background:
Mills-Tui Unipower Airport Crash/Fire Emergency Vehicles. These are New Zealand built vehicles powered by 12litre V8 diesel engines. As well as airfield response they are also set up for domestic operations and dealing with hazardous materials. They carry 5000litres of water and 480 litres of AFFF foam. Twelve were originally procured in 1986. Nine are still in service, with four (05, 17, 18, 20) at Whenuapai, three at Ohakea (04, 06, 16) and two at Woodbourne (12, 21).


---
Toyota Hilux 4x4 Rapid Intervention Vehicle (RIV)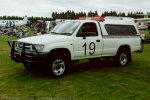 Background:

Each Base Fire Station has two RIVs - either a Toyota Hilux or a Nissan Nivara set up with emergency equipment. The example above is from Whenuapai. More details to come.


---
Saab-Scania Refuelling truck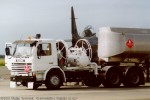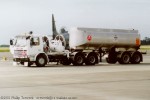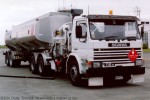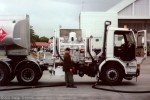 Background:

To Be Added


---
Lox Trailer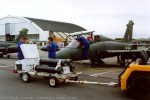 Background:
To Be Added


---
TALU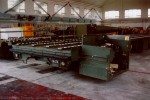 Background:
The Transportable Air Loading Unit (TALU) is used for loading pallets aboard C-130, and visiting C-5, C-17 and C-141 aircraft. It is capable of lifting up to 1.5m (5 feet). The vehicle will fit inside a C-130 for air transport. Made by Static Engineering Co. Ltd of Elizabeth, South Australia, the vehicle is powered by a Holden V8/308. This example is registered for use on New Zealand roads, and has been driven between Ohakea and Palmerston North. Some statistics on the vehicle:
Width 2.79m (9'2)
Height 1.73m (6'8)
Length 12.42m (40'9)
Vehicle weight 8254kg (18,160lbs)
Load capacity 11350kg (24,970lbs
Max speed 32kmh
---
SATS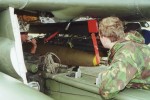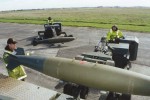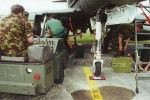 Background:
Short Airfield Tactical Loader (SATS) : To Be Added


Thanks to Glen Turner for providing the SATS action pictures and details.
---

&copy 2002 Phillip Treweek, all rights reserved