Chino Airport
San Bernadino County, California :
October 20, 2001
Chino is one of those places that everyone who is interested in aviation seems to have heard of, and most seem to dream of visiting. It's taken a while for me, but that dream finally came true. This page covers how I got there and my visit to the Yanks Air Museum. Click to see what I found during my walk round the ramp and at The Air Museum - Planes of Fame.
Getting There:
Saturday morning in LA - well Anaheim actually. My wife and I were staying across the road from Disneyland on a three day stopover. It seemed more than a tad unreal. For our second day in town Louise had gone off to Universal Studios. I had something a little more real in mind. So at 9am I was standing on the curbside looking what seemed to be the wrong way up the street (why do Americans drive on the wrong side of the road) looking for my lift. My visit to Chino had been arranged with a long time internet correspondent of mine, Thomas McKelvey Cleaver. He had arranged for Robert Karr to pick me up. So I stood watching the traffic - which even at this hour was busy with lots of buses and shuttles heading to Disneyland. The weather didn't look to bright as it was all grey - but I didn't know if it was smog or fog.
Didn't have to wait long for Robert. I managed to pick out his charcoal coloured van before it pulled up. As we drove out to Chino, we got acquainted. He is a painter with an Aviation Art business. It was a fun meeting - one of those cool conversations with someone who shares the same interests where it doesn't take long at all to get comfortable. The drive was interesting - the freeway was familiar (too much TV), but still strange. Robert told me the grey was fog and should burn off (as it turns out, it only kind of lifted). It did restrict the views a little, and didn't improve much as we approached Chino. The airport (an old training base) is in dairy country - I could certainly smell that! (made me kind of homesick).
As we arrived at the The Air Museum - Planes of Fame we passed a B-17 (Picadilly Lilly II) and found a B-50 fuselage stretching along one side of the carpark. Gave me something to stare at while we waited for Tom to arrive - which wasn't long. After introductions (again there was that instant connection) we went through the Planes of Fame building, and out toward the aircraft. I was introduced to a bunch of people - Steve Hinton (pilot), owner Ed Maloney, and a heap of volunteers - way too many for me to remember!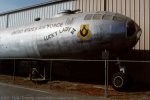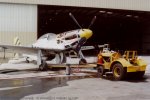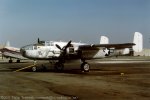 Left: Boeing B-50A-5-BO (46-010) 'Lucky Lady II' of the 43ed Bomb Group made the first non-stop round the world flight (utilising air-to-air) refueling between February 26 and March 2, 1949 covering the 23,452 miles in 94 hours and one minute; Centre: North American P-51D-30NT Mustang (45-1582, N5441V) 'Spam Can' was delivered to Ed Maloney in March 1957 as the Air Museum's first flyable exhibit, making it the oldest privately owned Mustang in the world; Right: North American B-25J-25-NC (c/n108-33698 44-30423) 'Photo Fanny' - more on her here.
We walked out passed some of the planes too. P-51Ds were being pulled from the hangar. A Stearman, Bearcat, and Sabre were already outside. In another hangar I could see a Tigercat and a P-38. On the ramp a B-25 was being worked on. I truely didn't know which way to look! Tom disappeared for a little while with Steve Hinton - Tom is a writer and they're working on a piece. I followed Robert around while he talked to a bunch of people. When Tom reappeared, we set off at a fast walk toward the Yanks Museum.
Yanks Air Museum:
We started at the restoration facility. Tom had made arrangements so we just bowled in through the gate - it's great having contacts! Outside was a Curtis C-46 and a bunch of modern stuff - A-6E Intruders, F-14A Tomcats, an A-4E Skyhawk, and a dismembered looking E-2C Hawkeye. I was just amazed. Then we went through the hangar door ...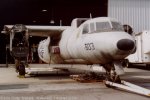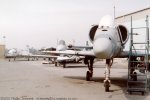 Left: Curtis C-46A Commando (c/n 289 ex 43-47218) N74173 arrived at the Museum in 2000; Centre: Grumman E-2C Hawkeye (c/n A075, BuAer 161344) formerly of VAW115 arrived at the Museum only a couple of moths before me; Right: McDonnell Douglas A-4E (BuAer 151038) in front of an T-33, F-14, and T-38.
The first thing I saw was a Lockheed Electra - followed by a P-39N. Robert and Tom oohed and aahed over the Airacobra. It did look pretty good, and they spent some time photographing it. Further back in the hangar was a Corsair (well, from the spar back), an early model Helldiver (it impressed the hell out of me), an R-4B frame, a HUP-1, and more. The place was just magic.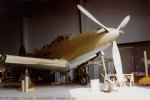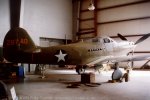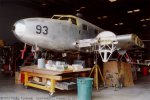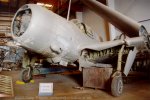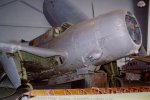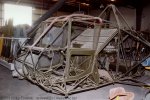 Top Right and Centre: Bell P-39N Airacobra (42-8740) registered N81575; Top Right: Lockheed L10 Electra '93'; Bottom Left and Centre: Curtis Wright SB2C-3 Helldiver (BuNo 19075, N4250Y); Bottom Right: Sikorsky R-4B Hoverfly.
Way over the back were some tanks - in particular I noted a Grant. But the aircraft surprises kept coming - like an Ohka. I looked at a couple of rather bare airframes (frames in the true meaning of the word) that seemed familiar, but I couldn't identify them. Tom pointed out one was a Ryan Brougham, and the other a Fleet. I pulled myself away from an Avenger, only to be trapped by a Cessna Bobcat. Saw Charles Nichols, the owner, wandering round in deep discussion with another gentleman - who apparently had some guns suitable for completing the P-39N. We didn't get to talk to him, but some of the other staff were chatty. Tom eventually managed to drag Robert and I next door.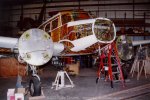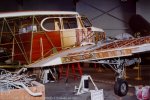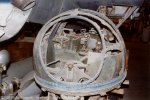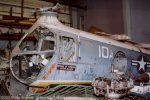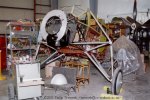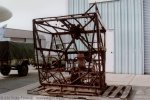 Top Left and Centre: Cessna UC-78 Bobcat (c/n 5193) - a 1943 T-50 'Bamboo Bomber' now registered N46617; Top Right: ; Turret from a Grumman TBF-1 Avenger; Bottom Left: Piasecki HUP-1; Bottom Centre: Ryan B-1 Brougham (c/n 141, N6956) built in 1928; Bottom Right: Waco CG-4a glider nose.
The next delight in store for us was the display hangar. We passed more fuselages/airframes on the way - mostly A-4s and F-14s. The display hangar is just amazing. Started with a naked (no fabric) N3N-3 and another mounted on a float. Walking round we discovered two more, and then heard a fifth is under restoration ( of the 995 built there's over 100 on the US register, but only around 20 airworthy left). I subsequently discovered Yanks Air Museum has six (N44713 c/n 2704, N44738 c/n 1775, N44742 c/n 2783, N44757 c/n 2621, N44837 c/n 4484, and N4502A c/n 1790). There was just too much for me to take in. A real Jenny, and beside it a 1929 Cessna and a 1928 Lincoln. Some of the types were so rare - like a Curtis Owl, and a P-51A (actually an F-6 reconnaissance model) or the XP-47M prototype. They have a photo-reconnaissance P-38L with the original windowed nose - so many of these were converted back to a standard fighter configuration. But I even found the Vultee B-13 trainer (another type I hadn't seen) of interest.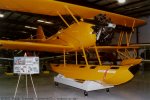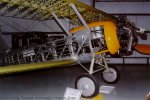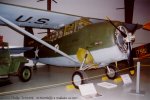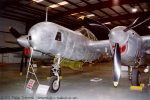 Top Left and Centre: Naval Aircraft Factory N3N-3 - the type was first flown in 1935 and the example to the left on floats represents the last biplane type operated by the USN at the US Naval Academy; Top Right: Curtiss JN-4 (c/n D-51, N1563) - the famous 'Jenny'; Bottom Left: North American P-51A -10NA (43-6274, N90358), this rare early Mustang is coded as AX-H; Bottom Centre: Curtis O-52 'Owl' (c/n 14302, 40-2769, N61241) - the R-1340 owered Owl reputedly used elements of the SO3C and SB2C with BF2C undercarriage. None of the 203 built saw frontline service with US forces, but 19 were sent to Russia; Bottom Right: Lockheed P-38-5-LO (F-5G) Lightning (44-53012, N718 (formerly N517PA)).
We wandered up and down, and I ran a bunch of frames (as you can see) . Robert was busy videoing details on the rear of the P-40 Kittyhawk I (AK827, N40245) )for some boxtop art he's been commissioned to do. Again we spent time chatting to the very friendly staff.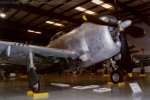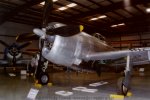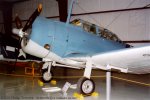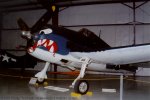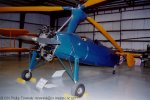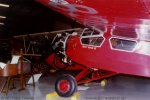 Top Left and Centre: XP-47M Thunderbolt (c/n 93-F-120000, 42-27385, N27385 (formerly NX4477N, NX4477M, N4464N)) has an interesting history - one of three prototypes convrted from P-47D models this aircraft went on to become a Bendix racer; Top Right: Douglas SBD-4 Dauntless (BuAer 010518, N4864J); Bottom Left: Grumman F6F-5 Hellcat (BuAer78645, N9265A); Bottom Centre: Kellett YG-1 Autogyro (serial 37-???) - is one of seven Kellett KD-1B (a modified Cierva built under license) supplied to the Army Air Corp in 1937; Bottom Right: 1929 Cessna AW (c/n 167, N8782) named 'West Wind III'.
Eventually we had to break away. Outside we took a wander through the yard on either side of the restoration hangar. Lots to see and take our attention - like the A-6E Intruder hulks (no wings) and the F-14A Tomcats. OneTomcat looked odd with no engines - rather see through. Planes are like people, you shouldn't be able to see their insides. Also of interest was a derelict looking F-4 Phantom, and an A-4 Skyhawk (not the one pictured below) which sat rather low - presumably no hydraulic fluid in the undercarriage cylinders. There was even a submarine rescue vehicle in view on a trailer behind the yard.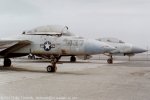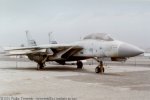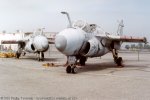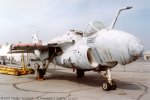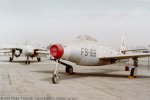 Top Left: Grumman F-14A-70-GR Tomcat BuAer 15895 (Modex 437) was withdrawn on March 31, 1992. (BuAer 16071 can be seen behind); Top Centre: Grumman F-14A-100-GR Tomcat BuAer 16071 (modex 132), formerly of NAWC at Pt. Mugu was withdrawn on September 5, 1997; Top Right: Grumman F-14A-105-GR Tomcat BuAer160928 (Modex 133) was withdrawn on August 21 1998; Middle Left: Grumman A-6E(Tram) BuAer 160995 (Modex 507) was the first production Tram model. (BuAer 155644 can be seen behind); Centre: Grumman A-6E(Tram) BuAer 155644 (Modex 521) was built in 1968 as an A-6A and later converted to a Tram model; Middle Right: Republic F-84E Thunderjet (49-2155) marked FS-155 ; Bottom Left: McDonnell Douglas A-4E BuAer 151038 in agressor colours ; Bottom Right: Tom Cleaver stands in front of an F-4 Phantom II (Modex 62) formerly with USS Independence CV-62.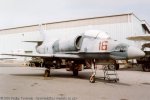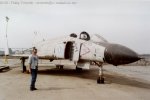 ---

&copy 2002 Phillip Treweek, all rights reserved