Chino Airport
San Bernadino County, California :
October 20, 2001
Chino is one of those places that everyone who is interested in aviation seems to have heard of, and most seem to dream of visiting. It's taken a while for me, but that dream finally came true. This page covers what I found during my walk round the ramp and at The Air Museum - Planes of Fame. Click to see how I got there and what I found during my visit to the Yanks Air Museum.
On the Ramp:
I could happily have wandered round the Yanks Air Museum restoration compund with my camera for a while, but Tom had other plans. He lead us across the tarmac again and we passed a former Coastguard Martin VC-3A and a C-123K (complete with auxilliary jets). Tom's target was the Tallichet (MARC) compound. We walked along the back of a row of hangars, hard against a chain-link fence. We were off the concrete so I guess I can say I have stood on American soil. But it was no cooler on the baked earth with it's low scrubby vegetation than on the tarmac. We reached our objective - Tom had wanted to show me the hulk of a Bolingbroke. It looked fairly intact, and has apparently been there (along with parts of another) for years! A little further along on another property was an AEW-1 (a Skyraider in British guise). It was interesting, but I was starting to wilt in the heat.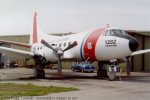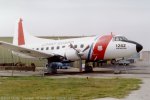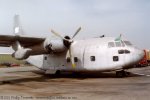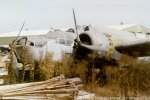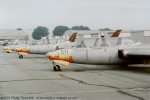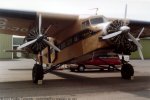 Top Left and Centre: Martin VC-3A (BuAer158202, N404CG) built as a Martin 404 in 1952 for Eastern Airlines and sold in 1958 as one of a pair to the US Coast Guard. Retired in 1968, she was then operated as N3711K including carrying musicians around North America. Restoration began in 1997 and the aircraft was returned to USCG colours two years later; Top Right: Fairchild C-123K Provider; Bottom Left: Bristol Bolingbroke hulk (possibly RCAF 10076) which was collected by David Tallichet around 1972; Bottom Centre: Potez-Fouga CM.170R Magisters N508F, N221FM, and N511FM - formerly operated by the French Air Force; Bottom Right: The Bushmaster 2000 (N750RW) is a modified Ford 5-AT Trimotor design by Bill Stout which was to go into production in the mid-1950's. Only two (and a further fuselage) were completed with one flying in 1965, and this one in 1985. Known as 'Buffy', the aircraft operates for Tri Motor Air Tours from Fullerton Municipal Airport.
We backtracked to the tarmac, and then walked along the ramp to Aero Traders - another one of those Chino 'names'. They specialise in B-25s and had two in the hangar. Could really only see the one at the front - 'Pacific Princess' (TB-25N 43-28204 N9856C). Lovely! We continued on, passing a Hunter (apparently airworthy but not flown for a while) and a Bushmaster. This one was definitely still working - and was being loaded. Snapped a pic and then raced off after the other two as they tramped back across the tarmac to The Air Museum - Planes of Fame.
The Air Museum - Planes of Fame:
Walked past the B-25 ('Photo Fanny') and made sure I photographed the nose art. Had a chat with Robert about the dangers of American versus other forms of English, and the use of terms like fanny. Where I come from 'fanny pack' has a whole different meaning, and he was amused by our equivalent term - 'bumbag'.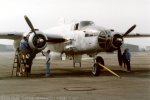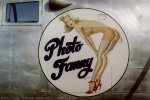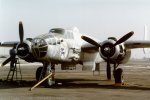 North American B-25 'Photo Fanny'. One of the mainstays of The Air Museum, this aircraft was built as B-25J-25-NC (c/n108-33698 44-30423), but was redesignated as an EB-25J and JB-25J during her Air Force career. Put into storage in 1958 and then sold, the aircraft eventually joined the museum in 1973. The aircraft has been modified to serve as a camera ship (note the bubble replacing the dorsal turret), and has a number of movies to her credit. The nose art is based on that carried originally by photo-recon B-24 42-7315 and was painted by Teresa Stokes .
By then we'd reached the hangars and I got my first look at the SBD-5. This aircraft is a former RNZAF combat veteran (NZ5062 of 25 Sqn), and top of my list of sights to see at Chino. I spent a while wandering around the aircraft while Tom and Robert wandered off to do other things. So I had a great time with my camera. They returned all too soon and dragged me out of the Bob Pond Hangar and off to Fighter Rebuilders. Here the prime inhabitant was an A6M3 in an advanced state of restoration. But I was even more surprised to see a Grumman Duck!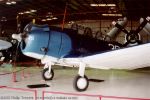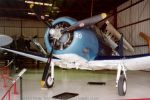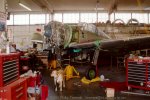 Left and Centre: Douglas SBD-5 Dauntless BuAer28536 registered NX670AM, has a combat history with the RNZAF whom she served as NZ5062 with 25 Squadron between March and May 1944, and subsequently with the USMC (see more pictures of this aircraft below); Right: Mitsubishi A6M3 Reisen (serial 3852, N385HF) undergoing restoration work in the Fighter Rebuilders workshop. The aircraft formerly stored with the OFMC at Duxford is being prepared for the Flying Heritage Collection.
It was a short look, because then I was dragged away yet again (funny how there's never enough time when you're having fun) to the Tom Friedkin hangar. Here there were some real gems - particularly the Japanese aircraft. These included another A6M3, a substantial chunk of a 'Val', a 'Betty' wreck, the sole surviving J8M1, and a complete 'Jack'. I have to admit that at this point I was going into aircraft overload, and it was a real shame that I just started looking and not photographing (although it was a little on the dark side for good pics). There were some cool replicas like a Natter and an Me163. I did get my camera out toward the end. A Hanriot HD-1 hanging from the roof proved to be the real thing. It looked a bit suspect painted with Nungesser's coffin and candles markings, but as it turns out, he had made a barnstorming tour of the US in the 1920's and left the aircraft when he returned to France. Tom took great pride pointing out the prewar Boeings. He said it was a real shame I'd missed the Grumman F3Fs which were away on loan - and he looked really surprised when I said I'd seen them at Duxford only 12 days previously.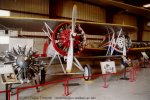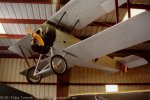 Left: A rare pair, the Boeing P-12E (32-017, NX3360G) which survived as an instructional airframe before being obtained by the museum, and Boeing P-26A (33-123, N3378G) which served in Panama before passing to Guatemala where Ed Maloney acquired it after its retirement in 1957; Right: The Hanriot-Dupont HD-1 (A5624, N5934) was used by Charles Nungesser during his US tour in 1920, and appeared in the classic movies "Wings" and "Hell's Angels".
It had been a busy morning so I was relieved when Tom called lunch. We piled into Robert's van with Ed and drove round to Flo's Diner. The setting seemed familiar (that TV effect again) but not quite. It was hell trying to figure out what to have from the menu. It all sounded familiar but there was some question as to the form it might take - cultural confusion had caught me a couple of times previously! Tom's suggestion sounded like a serious cholesterol overload so I asked the waitress, who recommended the grilled turkey sandwich. This turned out to be an excellent choice - although I was somewhat surprised to find that as well as fries, it came with a bowl of fruit. However I was excited to get a more 'real' look at American life. The conversation was interesting - current state of model production, restoration news, and general aviation stuff.
I didn't realise till I'd returned to New Zealand (and done a little research for these pages) how famous Flo's is - but I can see why. At this point it's also worth pointing out that sometimes I'm a little slow connecting names and faces. Ed at lunch didn't quite connect with Ed whom I'd been introduced to earlier - just too many people to deal with. So Ed had just seemed very knowledgeable on what was happening round Chino - as I would expect from someone there. It was only as we got back to the museum and Ed mentioned he'd have someone open up the SBD for me that I realised that this Ed was Ed Maloney. Oops!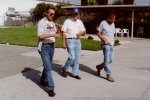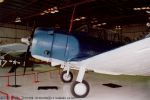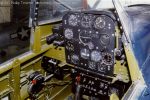 Left: Back from lunch, Thomas McKelvey Cleaver, Ed Maloney, and Robert Karr; Centre and Right: Douglas SBD-5 Dauntless (BuAer28536, NZ5062, NX670AM) survived the war to become a wind machine at MGM studios. It also appeared in the film 'Midway', being used for cockpit shots with Charlton Heston. Acquired by The Air Museum, it was restored using wings from another aircraft recovered from Guadalcanal and returned to the air on February 7, 1987.
But arrange someone to open the Dauntless he did! So we headed back to the Bob Pond hangar and the volunteer gave me a hand as I photographed the front and rear cockpits - and anything else that looked like it needed photographing. How good can life get! It was just a matter of hoping everything came out okay (they did and more can be seen in a walkaround here). When I got down I thanked Ed. Then Tom introduced me to Jim and Lani Muche (photographers). We didn't have long to talk before Tom dragged me outside. Time was getting short and he had a few more things to show me.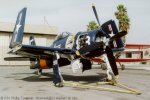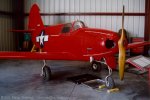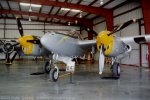 Top Left: Grumman F8F-2 Bearcat (BuAer122637, N1033B, N198F) has a history as a racer, having carried numbers '99', '11', and '98'; Top Centre: North American F-86E Sabre (51-13067, N186SE) having recovered from a runway over-run in 1996 is going to a Museum in the Pacific North-West; Top Right: Culver PQ-14B Cadet (c/n N-839, NL15HM) is one of 444 B model radio controlled drones built for the US Army. Based on the Culver LFA, it could also carry a pilot; Bottom Left and Right: Lockheed P-38J-20-LO Lightning (44-23314, N138AM) started life with the USAAF in May 1944 as a trainer. Postwar it had a number of owners, but was part of Ed Maloney's collection from 1960 to 1987. It was then restored to fly, doing so on July 18, 1988. The aircraft returned to the Museum in 1998.
Had a quick look at the Sabre and Bearcat parked outside. In the Jim Maloney hangar across the way was the Tigercat, a Howard, and P-38J 'Joltin Josie'. I've seen so many pictures of this aircraft that I just had to go up and touch it. I don't normally do this - but for once I couldn't resist. (the last time I had an urge like that was when I saw the Sopwith Camel at Hendon). Something different in the hangar was a Culver PQ-14 Drone. I must admit to mistaking it for a Firebee.
Then we went to check out the model room. I'd seen models elsewhere on the premises, but this was amazing - rows and rows of cases. Tom had made a large contribution to the collection, and Robert seemed to have done his bit too. Was astounded at a diorama about 4' by 2' showing a WWI scene - he'd scratchbuilt a couple of Fiat trucks to go with the dozen or so aircraft. On the way out we passed the 'hands on' room - excellent idea for kids.
Fighter Jets and Air Race Museum:
I was then taken down to the Fighter Jets hangar. First thing we saw was the XP-59A in the open door. Took a few pictures, then went round to the main entrance. Inside we walked passed another Sabre and the Northrop Flying Wing. Wow, what a blast! We also got a close up look at the XP-59. Tom seems to be a person without fear. Whereas I tend to be somewhat shy, he bowled up and asked if I could have a look in the cockpit! So I climber rather a rickety ladder up what is quite a tall fuselage - and discovered it was a wonderful spot to overview the rest of the hangar.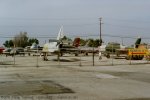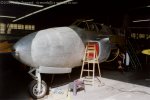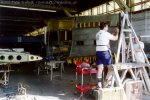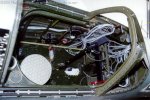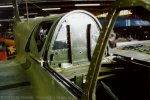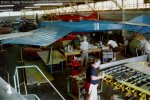 Top Left: One of the aircraft compounds we passed - what a range of aircraft; Top Centre and Right: The Bell YP-59A Airacomet (42-10877) fuselage and one of the wings being worked on in a jig. A historic survivor of the first US jet aircraft development programme using the Whittle inspired GE-I-16 turbojet, this aircraft is number 10 of 12 built for service trials and served with the 412th Fighter Group at Santa Marie AFB, Ca; Bottom Left and Centre: There is still some way to go in refurbishing the cockpit. The aircraft had been an instructional airframe prior to being acquired by the Air Museum in 1958; Bottom Right: A view down the hangar with the fibreglass replica of the 1913 Deperdussin Schneider racer (BAPC-136) in the centre.
Talked to one of the restoration crew, then had a look around. We also met the hangar cat - very friendly. Lots of goodies in this hangar too. The Bell X-1 was a replica (from 'The Right Stuff'), but the Skyrocket was the real thing. So much to see - side by side were an early model Meteor and a P-80 in an excellent chance for comparison. As well as jets, the hangar contained a number of early racers and racer replicas. Again it was just too much to take in!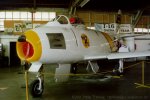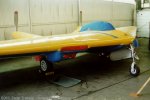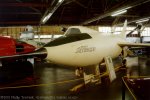 Left: North American F-86F Sabre (c/n 191-708, 52-5012, N4TF) is owned by Tom Friedkin of the Cinema Air Corporation; Centre: Northrop N-9MB Flying Wing (c/n 04, N9MB) was one of four research models built in the development of the XB-35. The 60' wingspan was 1/3 of the bomber. Last by the Air Force flown in 1945, it was acquired by the Air Museum in 1950. A restoration programme began in 1982, and the aircraft returned to the air on November 11, 1994 ; Right: Douglas D-558-II Skyrocket (BuAer37973, NACA 143). The first of three of the type, this aircraft flew 122 times for Douglas to evaluate the type's performance and validating wind tunnel predictions. NACA research pilot John McKay flew it once for familiarisation. The second aircraft went on to set a number of altitude and speed records, being the first to exceed Mach 2.
So in a strangeway I was almost happy when Robert said it was time to be moving along. It had been a fantastic day - I'd never had an opportunity like this before, and outside of Duxford I can't think of many places which would offer this sort of experience. But I think I was a bit overwhelmed by it all. I'd probaby appreciate the place more in smaller doses, but I don't see the opportunity for a return visit arising soon!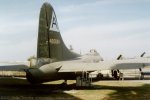 Right: Boeing B-17G-90-DL Flying Fortress (c/n 32325, 44-83684, N3713G) 'Picadilly Lilly II' was the last operational USAF B-17 as a DB-17P Drone Director, and was retired to Davis Monthan in August 1959. The aircraft was then acquired by the Air Museum and went on to a movie and television career, acquiring the name 'Picadilly Lilly' in "Twelve O'Clock High". The aircraft last flew in 1975 and moves are afoot to raise money for restoration to airworthiness..
We headed back to the carpark. Got a few pictures of the B-17G and B-50A. Tried unsuccessfully to find Ed. So we said our goodbyes, and Robert and I headed on our way. The drive back was probably 30 minutes, but it seemed much shorter. Robert and I talked practically the whole way - about Chino, our respective travels, LA and California, and culture shock. It was about 4.45pm when he dropped me off outside the hotel - which was only going to make him about 90 minutes later than he'd told his wife. I know that feeling! I walked up to my room thinking about the day and I was just buzzing. Must have had a grin from ear to ear. It had been hot and a lot of walking, but what a day. So many aircraft and so many historic aircraft - quite overwhelming. The worst part was waiting two and a half hours for my wife to get back - so I could tell someone other than my diary about it...
My greatful and eternal thanks to Tom Cleaver, Robert Karr, Ed Maloney, and all those helpful folks at Chino! I look forward to seeing you again sometime.
---

&copy 2002 Phillip Treweek, all rights reserved