Flying Legends Air Show
Duxford, July 12th, 1997

I made quite a lot of images at the airshow. To display a reasonable number of these photographs, this feature is arranged as six pages, each with a series of related photos and some background material relating to the airshow, with no more than 25 images per page. This is page one of six. To see the whole set (114 images) go here . My thanks to Peter Evans and Graham Moss for assisting with some of the aircraft details.


Getting there!

We arrived in Cambridge on July 11th - a long drive from North Wales where we had been staying at Portmeirion (all you 'Prisoner' fans will know why). Along the way we found out why the M6 is called 'the second largest carpark in Britain'. Two hours to cover twenty miles from just north of Birmingham to the junction with the M5. Wow! I guess it was partly our fault, if we'd left on time we wouldn't have been in the area at 5pm on a Friday.

We headed out to Duxford early the next day - on the road at 8.20am in fact. We'd heard horror stories about the queues. But it took us only fifteen minutes to reach the airfield in fact. But we did wind up in a carpark quite a distance down the airfield. Which carpark you wound up in seemed to depend on which direction you came from - and I think the London traffic got the best parks. But it was easy to park, the directions were great, and we were soon on our way. Cost 12 pound to get in, and 3 pound for a programme. Steep prices when converted to NZ$, but apparently good by UK standards (I mention this, as I had trouble finding out what kind of costs to expect before we left for the UK).

The American Air Museum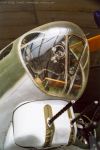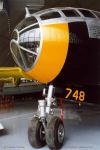 Our first visit was the Land Warfare Museum. I haven't posted any pictures of this (yet), but its a really good display - life size dioramas! Then we moved onto the American Air Museum, which was open for a preview (official opening was August 1st). We could walk in and across the front of the building. The highlights for me were the B52 (although we could only see the tail, the B17, and the B29. Some of these are pictured.

The building is an interesting design, and I'm sure the huge windows are going to make it popular with photographers. The arrangement of aircraft was difficult to judge with the limited access, but the 'hanging' of some of the aircraft from the roof is spectacular. Illustrated is the Grumman Avenger. I was quite interested by the mechanism for lifting the P-51 (actually a full size model) which was still in the process of being prepared for suspension. The airframe was still only partially assembled, so we had a good look!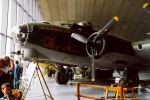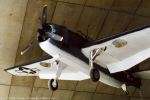 Flight Line
After leaving the American Air Museum we wandered around for a bit to get our bearings. Then Louise and I split up - she went off to check out the huge array of stalls - and I went to take a walk 'liveside'. I paid my 3 pound 50, and wandered out amongst the hoard of photographers. The money is worth it. You may not get right up to the aircraft, but you do get close. There are no fences in the way, and on the whole the other photographers were quite obliging.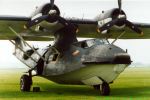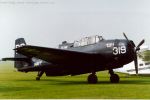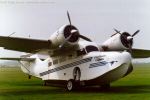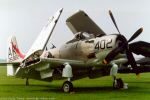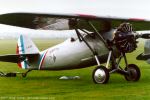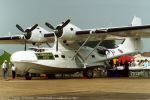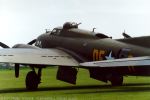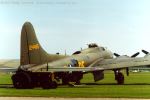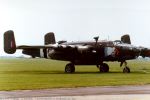 Pictured above are two Catalina's, PH-PBY in Dutch colours, and Plane Sailing's VR-BPS still showing signs of a recent advertising tour. The Goose is unfamiliar to me (details anyone?). The Dewotaine D-27 (F-AZJD) is operated by the OFMC. The Skyraider is the Fighter Collections AD-4 in the colours of VF-152 from USS Hornet. The B-17 is the inimitable 'Sally B', which still carries the nose-art for 'Memphis Belle' from the filming of the movie of the same name. The B-25D is Mitchell N88972 belonging to the Fighter Collection and the Indian head logo is clearly visible. The aircraft is displayed as KL161 of 98SQN in 1944.

---

&copy 1997 Phillip Treweek, all rights reserved