Flying Legends Air Show
Duxford, July 12th, 1997
Phil's Duxford excursion continued. This is page three of six. To see the whole set (114 images) go here . Continuing along the flight line . . .

Muscle Planes
I'm not sure if 'muscle' planes is the right description, but these Fighters certainly exude power and attract a lot of attention. I was certainly stunned by the line up. Coming from a country where two of any particular model is a major turnout, the appearance of 8 Mustangs, 7 Spitfires, 4 Hurricanes, 2 Bearcats, and the other aircraft just had me in raptures.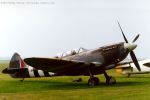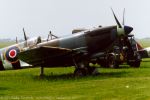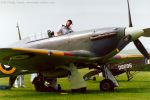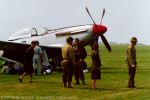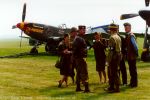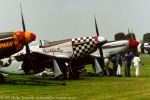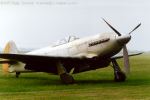 The aircraft pictured above are the Nicholson-Leslie MKXIV Spitfire (ML407) in the colours of 485(NZ) SQN, the Fighter Collection's LFIXe (ML417) in the colours of 443 SQN (RCAF), and Shuttleworth's Sea Hurricane 1b (Z7015). American aircraft are represented by the Fighter Collection's P-47D N47DD in the colours of the 82 Fighter SQN of the 78th Fighter Group, a host of Mustangs including the Fighter Collection's P-51D (44-25147) Candyman/Moose, and the P-63A-7BE KingCobra (42-69097) G-BTWR. Again, having the folks patrolling the flightline wear period costume makes for some interesting photo opportunities. The sole Russian aircraft was on static display in the form of the OFMC's new Yak3A G-BWOE.
Bf109-G2 Black 6
This was one of the aircraft I had specifically come to see - built in 1942 at Leipzig, the aircraft was sent to North Africa and grounded by damage when only a month old. It was then captured following the Battle of El Alamein. Taken to the UK for evaluation and subsequently stored, a long period of restoration saw it rebuilt to airworthiness. Owned by the Ministry of Defence Historic Aircraft Collection and operated by the Imperial War Museum, it has been authorised to fly for a limited period - and I really wanted to see it in the air!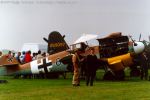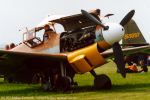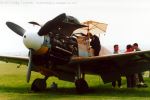 Here the aircraft sits on the flightline, with the DB605 engine cowlings opened up. Note the parasol for the chap in the cockpit - by this stage the mist was clearing, and the day was starting to warm up.
In the Workshop
Wandering through some of the hangers I encountered some interesting sights - like the MS-500 Criquet (G-AZMH) operated by the OFMC, and the Fighter Collection's Mk22 Spitfire (PK624) and Bristol Beaufighter (JM135) undergoing restoration. For more details on the restoration, go the the Fighter Collection pages.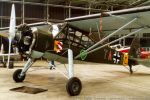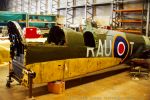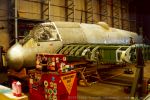 &copy 1997 Phillip Treweek, all rights reserved