NA-88 AT-6 Harvard
Background
The genesis of the Harvard begins with a 1934 contract for a primary trainer to meet a USAAC requirement. This aircraft was produced in several variants, with several powerplants ranging from 400 to 600hp. In 1937 the addition of retractable undercarriage, a P&W R-1340 powerplant and some other refinements to the airframe produced a recohnisable Harvard. In the following years, development continued with the replacement of fabric with metal, and other refinements. More than 15,000 were eventually built in the US or under license in Australia, Canada, Japan, the Netherlands and Sweden.
The RNZAF operated 202 Harvards (NZ901-1102) of various marks (NZ901-1005 Mk.II, NZ1006-1057, NZ1070 MkIIa, NZ1100-1102 MkIIb, and NZ1058-1069 NZ1071-1099 MkIII) delivered in the period from 1941 to 1944. Some of these were contracted by the RNZAF, while others were issued as part of the Empire Air Training scheme. The aircraft have been used in training, communication and FAC roles. 53 aircraft were lost through various causes during WWII. The majority of the Harvards were put into storage in 1945, and many were sold for scrap in 1958-59. Remaining Mk.II and Mk.III aircraft were modernised between 1955 and 1957. Thirty-five aircraft were utilised as instructional airframes. The last 19 airworthy aircraft were withdrawn in 1977, and subsequently sold along with 13 aircraft that were in storage. These aircraft provided the nucleus of a developing warbird scene in New Zealand in the 1980's
Five Harvards remain with the RNZAF:
NZ1009 (c/n 88-9266 ex 41-33160, EX187, INST211) a Mk.IIa* is a reserve aircraft with the RNZAF Historic Flight stored at Ohakea.
NZ1015 (c/n 88-9272 ex 41-33166, EX193) a Mk.IIa* is airworthy, with the Historic Flight.
NZ1050 (c/n 88-13907 ex 41-33766, EX793, INST207) a Mk.IIa is a gate guardian (Wigram)
NZ1083 (c/n 88-16144 ex42-84363, EZ300, INST212) a Mk.III* is a reserve aircraft with the RNZAF Historic Flight stored at Ohakea.
NZ1087 (c/n 88-16326 ex 42-84545, EZ331, INST213) a Mk.III* is on display as NZ948 in the RNZAF Museum
In addition, the RNZAF holds the forward fuselage of NZ1102 (c/n14A-2110 ex KF410, INST138) a Mk.IIb.
Nearly 50 ex-RNZAF Harvards are now in private hands in New Zealand, and overseas. At present (July 1, 1998) 16 are airworthy in New Zealand. Formations (I have seen up to ten) can be seen at various airshows, and the 'Roaring Forties' Warbird association display team peforms regularly in New Zealand (and occassionally overseas). A rough list of surviving Harvards can be found here .
In addition, there are two further Harvards which have been imported during the 1990's. ZK-XSA is an ex-South African Airforce aircraft (7660) imported in 1996. Assembled at Aerotech at Ardmore, and now based at Ashburton, this aircraft was built in 1941 as a Mk.III (41-16269), but has subsequently been modified to T-6G standard. One of the owners is the Editor of Classic Wings Downunder. The other aircraft is a 1952 vintage, Canadian built Harvard Mk.IV (c/n CCF4-153, ex RCAF 20362). The aircraft was modified in 1968 to represent a Mitsubishi A6M2 'Zeke' for the film 'Tora Tora Tora'. It has subsequently passed through several owners, and appeared in several more films. The aircraft was acquired by the AFC in 1991 from the Old Flying Machine Co, and was based at Wanaka. It has now (2001) been exported to Australia.
Last Text Update:- 6 March, 2002
Last Picture Update:- 28 March, 2003

---
Technical Data
Accommodation ; 2
Dimensions

Span : 12.8m (42'0ft)
Length : 8.99m (29'6ft)
Height : 3.56m (11'8ft)

Weight

empty : 1,938kg (4,271lb)
max : 2,546kg (6,617lb)

Power Plant : 600hp P&W R-1340-AN-1
Performance

max speed : 341km/h (212mph)
max climb : 1,643ft/min (8.3m/sec)
ceiling : 24,750ft (7338m)
range : 1400km (870miles)
---
Images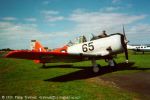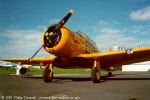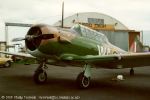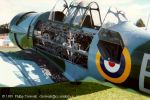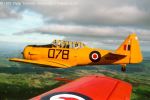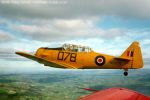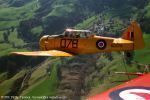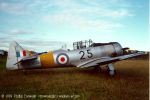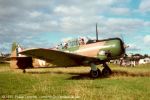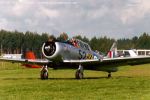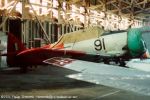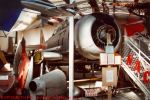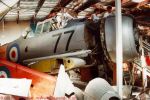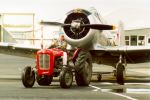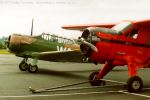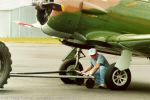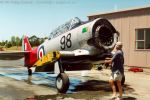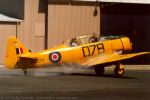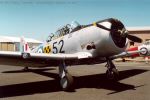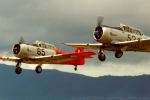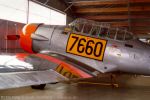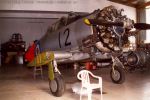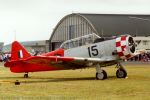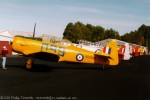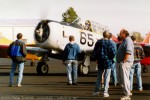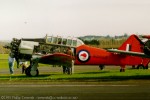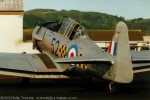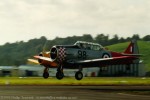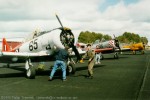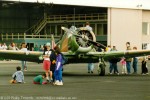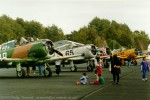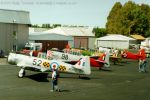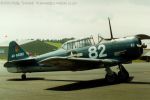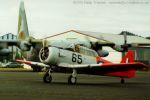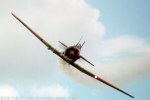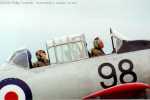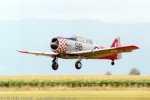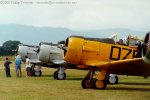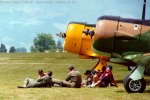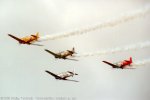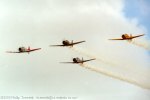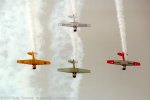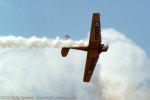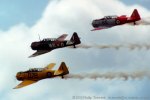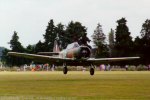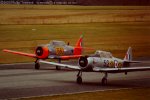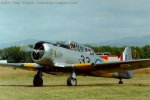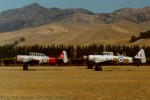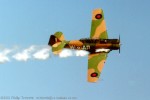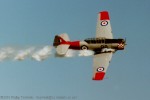 ---
Close Up
I plan to extend this close-up, but these images are a start. Remember to let me know if you have a request for an image of a particular part of the aircraft!
---

&copy 1996-2003 Phillip Treweek, all rights reserved