Royal Air Force Museum
Hendon, June 13th, 1997
This section is laid out in three pages. This page describes the Battle of Britain exhibit. The other pages describe the Main Aircraft Hall and the Sunderland tour .
After a couple of hours (well, maybe a little more) in the Main Aircraft Hall and the associated displays, David and I wandered across to the 'wings eatery' for a little sustenance, and then headed for the Battle of Britain exhibit.
The Battle of Britain exhibit
The hall was opened in the late '70's and displays a number of aircraft - particularly the German examples, and RAF aircraft from the period - along with associated displays. The dioramas (as shown below) are particularly effective - combined with background signs and display boards. Visitors pass through these on the way into the hall, setting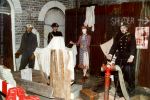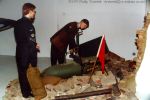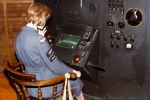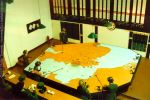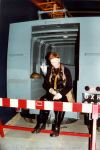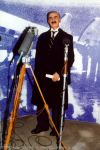 The highlight for me was the Axis aircraft - Bf109E-3/B (GH+DX), Bf110G-4/R6 (730301), He111H-20 (NT+SL), Ju87D-5 (RI+JK3), and Fiat CR.42 (MM5701). These are all amazingly rare aircraft, and it was overwhelming to be able to see them all in one place.
The lighting is not the best for photography, so I was pleased with the images I got. The pictures I attempted of RAF aircraft were not so good. Note the green tinge in some of the images - I was using daylight film, and working using the available fluorescent lighting. The nose of the He111 came out this way because I wanted to avoid flash reflection from all that glazing. The more normal tones are the 'flash' images.
The next images are of one of the strongest and saddest exhibits - the wreck of a Hawker Hurricane, displayed as found (apart from some cleaning). I felt it displayed the sadness of what happened to many aircraft and their pilots. It also amply reminds us of what many of the restoration projects we see in museums start out as.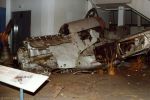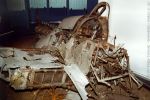 At one end of the hall, representing Coastal Command, was the Short S.25 Sunderland MR.V (displayed as a MR.III) resting on a cradle. The best part of this was the fact the aircraft can be viewed from the interior. The Sunderland tour is described on the next page.

---

&copy 1997 Phillip Treweek, all rights reserved