Royal Air Force Museum
Hendon, June 13th, 1997
This section is laid out in three pages. This page describes the Sunderland tour. The other pages describe the Main Aircraft Hall and the Battle of Britain exhibit.
The Sunderland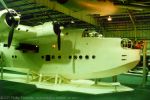 At one end of the 'Battle of Britain' hall, resting on a cradle is the Short S.25 Sunderland (ML824). This aircraft along with a Walrus and some supporting displays represents Coastal Command in the Museum. The Sunderland MR.V is displayed as a MR.III complete with mid-upper turret and appropriate paint scheme. The best part of this display is the fact the aircraft can be viewed from the interior. The images below show the interior.
The aircraft is approached along a walkway past the figures 'engaged in mooring. The aircraft is entered from a hatch on the port side of the nose. From here it is possible to look forward into the nose (as shown) and up through a plexiglass screen into the upper deck (not shown). From here it is possible to move through the middle of the aircraft. Sensors trigger a recorded explanation of the various parts of the aircraft.
Moving aft through a rest area is the galley. Accomodation is very spartan, and I can fully understand stories of the wind whistling through the length of the aircraft.
Further along, beneath the huge wings is the weapon's bay. The aircraft is shown with depth charges run out on trolley's beneath the aircraft's wings. This was only done when preparing to attack, because of the toll on aircraft performance caused by the huge drag of the extended weapons trolley. I was intrigued by the stenciling on the inside of the weapon bay doors - but I guess in the cold over the Atlantic some aircrew might have been tempted.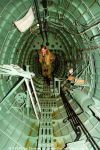 Moving aft again is the waist compartment - the image above shows the hatches open, and the view forward along the upper deck. The aircraft is very 'open plan', without much in the way of bulkheads to slow down the wind. The image to the right shows the view in the other direction, to the stern of the aircraft. This display is tailor made for photographers, and I really like this image!
At this point the tour ends, and the exit is via a hatch on the starboard side. Its really meant to be a one way trip, but as there weren't many people about, I wandered up and down the aircraft several times - which was funny listening to the narrations as I truipped the different sensors.
So after this Dave and I thought it was time to call it a day (and a pleasant one at that), at headed back to the Underground for our journey back to the Hotel.
Return to the Eurotour page

---

&copy 1997 Phillip Treweek, all rights reserved