Imperial War Museum
Duxford :
October 8, 2001
My visit to Duxford was motivated by getting pictures of NZ connected aircraft - but who really needs an excuse to visit! This material is divided into twoo sections. This page covers my visit Hangar 5, the American Museum, and the Super Hangar. The other page looks at my vists to the OFMC and the Grace Spitfire.
Hangar 5:
My next stop was the restoration workshop in Hangar Five. An F-15 was in the paint shop, but I couldn't get a decent angle on it. I hadn't really realised how big they are. Bf109 'Black Six' was looking really good, and one of the guides told me that it was nearly ready for display. The best part was watching the folks working on the B-24. One pair was busy rivetting on the fuselage - something I hadn't seen before. I also got a look at an Anson on the other side
American Museum:
When I visited Duxford in 1997 for the Flying Legends airshow , the then new American Museum was about a week away from its official opening. The crowd were permitted to walk in one of the emergency door sat the front, walk along the glass wall and out the other door. So I only got a glimpse of its treasures. This time I made a point of spending some time there.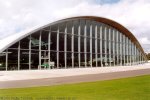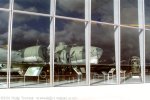 The Museum exterior showing the wonderful front windows - lots of light inside.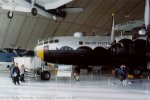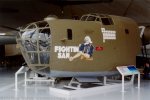 North American B-25J (PBJ-1) Mitchell 3171, Boeing TB-29A Super Fortress 46-1748, Consolidated B-24D Liberator 42-51457 (nose)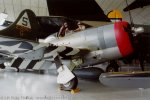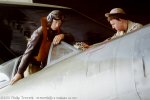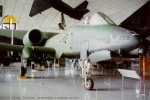 Republic P-47D Thunderbolt '42-6413' and Fairchild A-10A Thunderbolt II 77-0259
Super Hanger
On my previous visit I hadn't got near the Superhanger, so this was an opportunity to rectify that ommision. I knew some of what to expect. I knew about the Concorde (I'd seen one at Yeovilton) and the TSR-2 (as seen at Cosford), and some of the bigger items like the Avros - Lancaster and Vulcan which also I'd seen elsewhere. I'd even seen a Sunderland at Hendon (as well as back home). The aircraft that really knocked my socks off was very small and a surprise - the RE8. I didn't realise it was there, and as one of only two survivors its rarity is something else.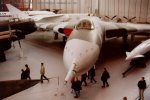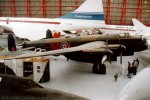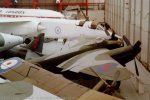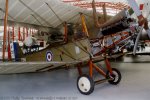 AVRO Vulcan B.2 XJ824, AVRO Lancaster X KB889, De Havilland DH98 Mosquito TT.35 TA719 with BAC TSR-2 XR222, and Royal Aircraft Factory RE.8 F3556.
The aircraft I really wanted to see hasn't been on display long - the SR-71. I have to plead guilty on touching the exhibit. There's not many aircraft I make a point of touching, but I just had to be able to say I've touched one. Not as tall as I thought - but it's certainly a big beast!
---

&copy 2002 Phillip Treweek, all rights reserved