Imperial War Museum
Duxford :
October 8, 2001
My visit to Duxford was motivated by getting pictures of NZ connected aircraft - but who really needs an excuse to visit! This material is divided into two sections. This page covers my visit to the OFMC and ML407, and some miscellaneous aircraft. The next page looks at Hangar 5, the American Museum, and the Super Hangar.
Getting There:
Started the day near Bedford where we'd stayed with Damien Burke. Being a Monday we made an early start. Took the scenic route via the B645 toward Cambridge. Duxford is easy to find signposted off the M11. Made it to the airfield a little after 10am. It was very quiet - somewhat different than our previous visit for the Flying Legends airshow in 1997. While I went off to have fun, my wife Louise headed off to Cambridge - presumably to do the same thing.
Old Flying Machine Co.
I started at the OFMC. Through the assistance of Damien Burke I had made arrangements for a visit prior to leaving New Zealand. My main objective was to get some cockpit photos of former RNZAF Corsair NZ5648. On arrival I tracked down Operations Manager Laura Wetton. I'd phoned several days previously to confirm I was coming, so she knew immediately who I was - which was a relief. She took me out to the hangar and introduced me to the engineers. I gave one a hand to move a stand up to the aircraft, and he then opened up the cockpit.
I'm not good with heights, so this job was a little daunting. The Corsair cockpit is a long way up. I think the only thing worse I've dealt with is an Avenger. Still I managed to run off several rolls of film. More pictures from my walkaround can be found here. I also took advantage of the presence of P-40E NZ3009 and took a few more pictures of this Kittyhawk in its RNZAF plumage. A walkaround of this aircraft can be found here.
There were also one or two other things worth a look at in the hangar. The OFMC Mustang, a Trojan, a Hunter, and as pictured below, the Aero L-39ZO. I was also intrigued by the 'Poddington Big Show', a piece of wall art rescued from a former US base. The work was painted by Sgt Waldschmidt.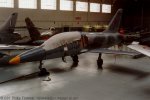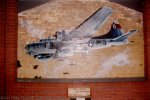 Left: Aero L39ZO '111' G-OTAF, Right: 'The Poddington Big Show'
I spent an hour with the OFMC, before thanking the people who had assisted me and then moved along to Hanger 2. A big thanks again to Laura and her colleagues at the Old Flying Machine Co.
ML407:
My target in Hanger Two was Spitfire T.Mk.9 ML407. Again this is an aircraft with a New Zealand connection. It was operated by 485 (New Zealand) Squadron from 1944 and in particular by F/O Johnnie Houlton who is credited with shooting down the first enemy aircraft over the D-Day beaches. Later the aircraft was converted to a two seater for the Irish Air Corp. Restored in the 1980's by Nick Grace, it is now operated by his widow Carolyn. (More details on the aircraft history here).
I wrote to Carolyn's daughter Olivia from New Zealand and arranged to photograph the aircraft. Neither she nor her mother would be there, so armed with her letter I went in search of the aircraft - and it took some finding. I eventually located the Spitfire literally in one corner, obscured from view by a number of larger aircraft. The Duxford hangars are definitely on the large side
The aircraft was undergoing some maintainance which I don't think had been planned for. The mechanic didn't look too happy, so after he had a look at my letter, we left each other alone. Although it was unfortunate that the aircraft needed the work, it was a wonderful opportunity for me to see what was under the cowlings. More pictures from my walkaround can be found here.
My thanks to Olivia for making the arrangements. The Grace Spitfire website can be seen here.
Hangar Two
There were quiet a few other things to be seen in Hangar two, but I didn't photograph much. I was particularly intrigued by the CASA 2-111 and the Mil-24 'Hind'. Over the otherside amongst the Fighter Collection aircraft I encountered the Grumman F3F replica on a visit from the Planes of Fame at Chino.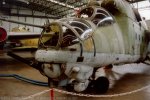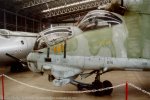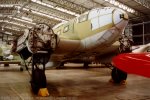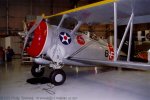 Mil Mi24 'Hind' 96+21, Casa 2-111 B21-103, Grumman F3F replica.
From there I had a bit of a wander round outside as there was a pause in the showers. As the following pictures show, there is plenty to see. Below is a sample.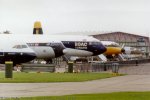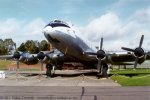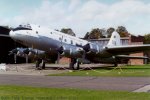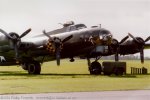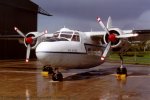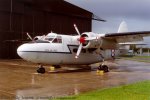 A view of some of the larger aircraft, Handley-Page Hastings C.Mk1 TG528, Boeing B-17G Flying Fortress 'Sally B' G-BEDF, Hunting (Percival) Pembroke C.Mk.1
I was particularly intrigued by the HP Hastings. The RNZAF operated this type (40Sqn) but no complete aircraft remains in New Zealand. MoTaT has a nose section and undercarriage.
---

&copy 2002 Phillip Treweek, all rights reserved